Click For Highlights: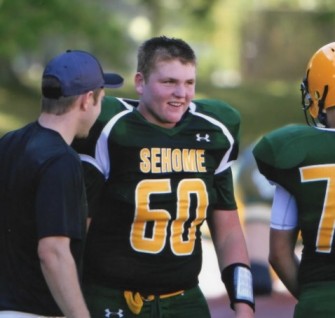 It had been 14 years since the Sehome Mariners had made it to the state football tournament. For head coach coach Bob Norvell, a former Washington State offensive lineman, this fact left a sour taste in his mouth. However, in 2013, Sehome returned to the promised land for the first time since 1999 and although they fell to eventual state runner-up Tumwater 52-22 in the first round, it was a big deal for the team out of Bellingham to advance that far.
Several things stuck out to Norvell about the way his team performed during their 5-6 finish this fall. More specifically, though, it was how well his offense was able to execute. 2A football fans recognize the names of quarterback Daniel Ziegler and running back/receiver Taylor Rapp. The two combined for 3,170 yards, but the majority of those yards came in large part to one reason:
The battles being won in the trenches.
Offensive lineman Drew Norvell (center) and Tyler Haggen (guard) fueled the Mariner hosses in 2013 and had campaigns to remember. The two juniors, who are starting to hear from Division-I colleges, had their ways with defensive lineman in the Northwest Conference, Bob said.
"They were our two best lineman their sophomore years and for them to return this season for us was huge," Bob said. "When we needed something to happen in a game this season, it was going through them.
"Drew and Tyler played both ways for us and that really helped us out. Whenever either of them weren't on the field, there was a noticeable difference for us. Great players those two."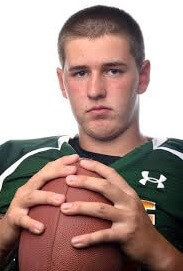 For Drew, who is Bob's son, his frame alone provided some intimidation to NWC opponents. He checks in at 6-4, 280-pounds and is still growing. Drew has been receiving early interest from Montana and Wyoming, and is hoping to get out to some camps this summer.
"The thing about Drew is that he's a huge center," Bob said. "We run the shotgun and almost all the teams we faced this year ran an odd front. He was able to handle anybody and everybody. He's able to move well with his size and he has pure hands delivering the ball."
In addition to being a standout on the football field, he also excels in the classroom. Drew, who was named first-team all NWC and second-team all-state by the AP, is a 4.0 student.
"He's a competitor in everything he does," Bob said. "He's a great student and he has also made the effort to become a better football player. He's kind of a nice kid, but this year, when we were confronted with some tough guys, he really responded by getting them to the ground.
"He had a lot of pancakes and a lot of plays where he battled through the whistle. For a lot of guys, they get thrown off and watch the play, but he was often finishing someone even after the play was over."
Meanwhile for Haggen, Bob added he's another class of 2015 prospect who also has some college football potential. Haggen was named first-team All-NWC and is a three-year contributor to Sehome's line.
"Tyler is ahead of a lot of guys from a physical standpoint," Bob said. "When he gets hooked on to somebody, he definitely finishes them off. He's pretty mobile for his size too and really tones his feet well."
The 6-3, 260-pounder is also hearing from Montana and Wyoming and similar to Drew, he's also hoping to get out to some camps this summer.
"Although they played both ways for us, I see Drew and Tyler's future on the offensive line," Bob said. "Tyler is pretty mobile and has some good quickness. He has a big frame and could easily add on some size. With Drew, he's kind of already there from a physical standpoint.
"Their work in the weight room is relentless. They both are throwers in track too and look to have good seasons."
Moving forward the teammates from Whatcom County are definitely two to watch.