Click for Derek Parnell Highlights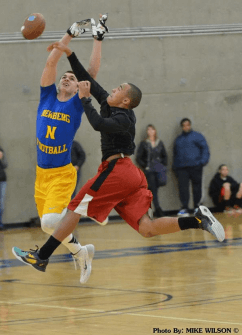 One of the top athletes in the 2015 class from the State of Oregon is Derek Parnell (5-9.5 178 ATH/CB) out of Southridge High School. He earned 2nd team all league honors at corner this past season, and has proven himself against the top kids in the Northwest at our elite events.
Parnell is one of the region's true dual threat prospects , ranking as one of the top five kids both offensively and defensively at his position, covering the entire state.
All players and positions considered Derek has been as impressive as any athlete at our Barton Football showcases. Referencing his goals moving forward he says, "My personal goals include bettering my all around game.. I will be working out with coach Dillard, hitting the gym, or attending the elite events held by you guys". Adding, "In the end my goal is to catch a D1 college's attention over the next season."
No one will sugar coat the fact that the Skyhawks didn't have the year they were expecting as Parnell said, "We want to have a lot of team chemistry and build on the brotherhood that we preach at Southridge". He continued, "It will be important to prove ourselves next year, because we fell short of our potential last season and want to show everyone that won't happen again."
Derek could very well be the top cover corner in the state as he is very similar to standout senior Aaron Washington of Central Catholic. The Hawks D will look to him and Oregon top linebacker Pepe Tanuvasa (6-1 220 Jr.) to lead a group that loses 34 senior's to graduation.
You can expect Parnell to be one of the top players in the Metro league offensively as he will be a threat any time he has the ball in his hands. You may see him playing 4-5 different positions during any one ball game, while also returning the kicks and the punts.
Moving forward and speaking on the last few months he says, "The elite events are really competitive and push you cause you are going against the best athletes in the Northwest". He added, " Without a doubt they make you better every time you go.. Its just great, I love it."
All of us are excited for Parnell as he will be one of the featured athletes on our Team Oregon squad that travels to Las Vegas next month. We will keep you updated on the kid out of Murrayhill as the off season progresses.