Click for Trent Green Highlights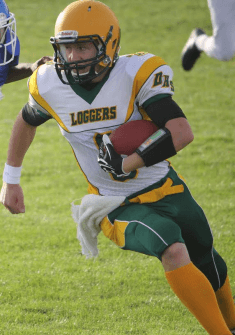 Recruiting is not easy in general, but it can be extra tough below the 2A level in the State of Washington. One player that has emerged as a college prospect from the 2B level (State's second smallest) is Trent Green (5'10" 170) of Darrington High School.
Darrington is a small town about a half hour east of Arlington, into the Cascade Mountains, and may be best known as the birthplace to Bob Barker. The population during the 2010 census was just over 1,100, and the High School houses approximately 115 students at the last WIAA count.
Green plays QB and DB for the Loggers, and projects all over the field. He has been a team captain every year since he was a freshman, and this past season was awarded as first team All-League on both offense and defense, as well as being named second team All-State at DB.
He is a three sport start, also competing in basketball and baseball. He carries a 3.6 GPA and regularly volunteers for the American Cancer Society, Darrington Recreation & Education Foundation, Darrington Junior Athletic Association, Senior Center & Key Club.
To say green is a busy guy would be a bit of an understatement, and things do not slow down during the offseason.
"My off season plans include attending Sunday trainings with Ryan Hochman at Score 6, Sunday trainings with Barton Football, several 7 on 7 tournaments with my team, attending the Central camp this summer and the FBU camp in May," Green told NEI. "I would like to visit as many colleges as I can this summer, Central, Eastern, PLU, UPS."
Green has plenty of goals for next season, both personal and team goals that are very attainable.
"My personal goals, first and foremost keep my grades as high as possible," Green said. "I have a 3.6 right now and would like to end high school with at least a 3.7. For football achieve first team again, and get first team all state, improve on my leadership skills and throw over 1500 yards."
He continues, "Our goals for the team are to be league champs, LaConner is a barrier to that, but I think if we work hard we can get there. I'm also looking for to every second of my senior year. Our team has come a long way and I want to celebrate that with them."
Green's ultimate goal goes beyond sports, as he would like to be a Washington State Trooper. He has already reached out to his local recruiter, and participated in the physical fitness test they use to evaluate potential Troopers. Seattle Television Station KING 5 was in attendance and even mentioned Green in their piece, you can view that piece Right Here .
The Loggers finished last season at 7-4. They return quality players across the board and are a legit league title contender. I look forward to following Green as he should be in the running for League MVP next season.