Click for Tyler Gedney Highlights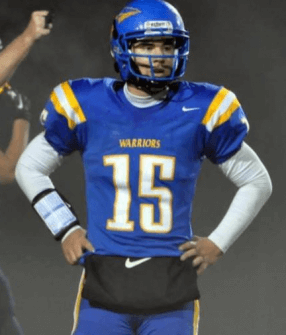 One of the bigger surprises in 1A football last season were the Rochester Warriors of the Evergreen Conference. While they finished 6-4, it was the school's best finish in ten years, including the past two years in which they went 2-7 and 1-8. A big reason for their improved play was senior QB Tyler Gedney (6'2″ 210).
While RB Tyler Yarber saw most of the attention, Gedney was a steadying influence in the huddle, throwing for over 1,500 yards and 15 TD's. He only threw 2 INT's the entire season, while also chipping in 5 TD's on the ground. These number were good enough for the league's coaches to vote Gedney as a first team All-League member following the season.
Gedney sports a 3.3 GPA, and scored a 1,580 on the SAT. He is a four year starter at QB, and also a four year letterman for the basketball team.
While that all sounds fine and dandy, Gedney has faced some adversity. In his four years at the helm of the Warriors' offense, he has not only had four different head coaches, but he has also had to learn four different offense. Current Warriors' head coach Eric Snelson, a former NFL player with the Raiders, looks to be the right man for the job, and Gedney may end up being the first gem at what could end up being a very good program.
Recruiting has been scarce for the senior signal caller, as Gedney has just recently started hearing from collegiate coaching staffs.
"I just recently started getting recruited and its all been from division 3 schools. PLU, UPS, George Fox, and Whitworth are the schools I have been in contact with so far," Gedney told NEI. "I just want to play college football, because I love the game. I love to play quarterback and I think I am good enough to play at the next level."
Looking to potentially open up more options, Gedney recently signed up for the Barton Football: Winter Showcase. He will get a chance to perform in front of coaches from around the country, including Washington, Colorado, California and South Dakota.
"I am hoping to catch the eye of college recruiters and give myself more options on where I can go to school and play football this fall," Gedney noted.
I look forward to seeing Gedney perform next weekend. He is very much under-the-radar, and a player that could open some eyes. We will keep you updated as Gedney will be making his collegiate decision very soon.