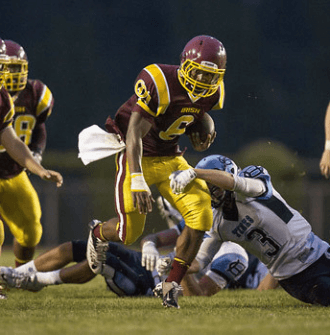 O'Dea (Seattle, Wa.) RB Myles Gaskin has seen his stock rise since the end of his junior season, but on Sunday, after meeting for a second time with the Husky coaching staff, the talented runner decided he'd seen enough and made his decision to commit to Washington.
"I've committed to the University of Washington," a happy Gaskin told Northwest Elite Index shortly after making his decision. "It was just the whole package — location, school, coaches, the program, the vibe — everything was what I wanted it to be.
"I was up there for Junior Day (back on February 8th) and meeting the coaches, I just felt like we could do some great things together and I loved the vibe they had.
As a junior this past season, Gaskin rushed for over 2,000 yards and close to 30 touchdowns and was named Associated Press Class 3A All-State and he received Seattle Times all-classifications All-State honors.
Gaskin chose the Huskies over offers from Arizona State and Washington State and he had seen things heat up with Oregon and Oregon State as well.
At 5'9" and weighing just under 180 pounds, Gaskin might not seem like the biggest back out there, but he runs hard and rarely goes down with the first hit. He's widely considered to top pure running back in the state and, had he let things go into the spring and summer, he likely would have wound up with offers from several more schools.