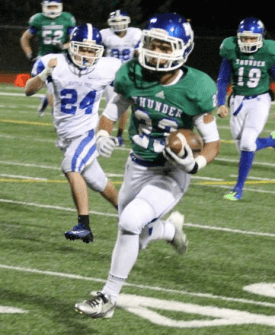 Even though he had to share carries with a senior, 2016 Mountain View (Vancouver, Wa.) RB Preston Jones still had a stellar sophomore season this past fall.
"It was a good season for me. I really had a great time and we had a really good season as a team, so I think it is something for us to build off of," Jones told Northwest Elite Index recently.
Even though he split carries with Austin Mace (a senior who rushed for 1,255 yards), Jones still managed to tote the rock 143 times for nearly 1,100 yards with a team-leading 17 touchdowns.
"I'm a downhill runner. If you watch my film, I think you will see a guy who has good vision and when I see the hole I plant my foot and go," Jones noted. "I like to get up-field really quick and make one cut and go. It's been successful for me and it's something I've always done."
This offseason, the 5'11", 180-pounder has already been hard at work in the weight room and he knows exactly what he wants to focus on over the next six months as he gets ready for his junior season.
"I definitely want to get more explosive and get bigger and stronger," Jones said. "I also want to get better at reading my blocks and making plays from anywhere on the field."
Event though he's an emerging prospect on the football field for the 2016 class, he said he thinks he's probably a more natural baseball player than football player.
"Baseball has always come pretty naturally for me and last year I played as a freshman and at our school, that doesn't happen much," Jones said. "I definitely had some struggles. I won't lie about that, but I was just 14. I've been working on my hitting and all of that and I think this year should be much better for me."
Jones is still a baby when it comes to recruiting, so, at least at this point, things haven't yet started to pick for him on the front, but he'll be hitting the camp circuit this spring and summer and, with his size, speed, vision and athleticism, as long as he chooses to play football at the next level, Jones could wind up being one of the best runners in the state over the next couple of years.