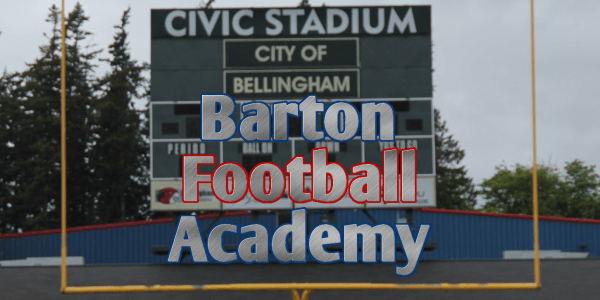 Most Outstanding Performer
Tristan Brock – '15, QB/LB, Mount Vernon
Offensive Outstanding Performer
Clark Hazlett – '15, QB, Squalicum / Matt Wilson – '15, QB, Woodinville
Defensive Outstanding Performer
Matt Kvech – '15, DB, Eastside Catholic
Lineman Outstanding Performer
Caden Lair – '16, TE/OL, Lynden
Underclass Outstanding Performer
Sterling Somers – '16, QB, Lynden
Breakout Performer
Brody Weinheimer – '17, LB, Lynden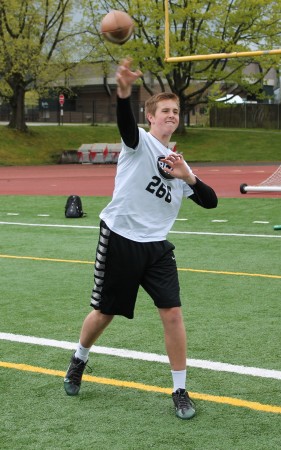 The Barton Football Academy made a trip up north for the second straight year. This is the fourth stop on the 2014 NW Camp/Combine Tour, and took place at Civic Stadium, who may have the nicest turf in the state after replacing it last summer.
Most Outstanding Performer at this event was by far the toughest decision to date on the tour. In the end, it would go to Tristan Brock of Mount Vernon. Tristan has great size at just over six-foot-one and he carries all 233 pounds nicely. He showed great arm strength and accuracy, while also having great athleticism. Last season, Brock was a first team Associated Press All-State member for his work at Linebacker, but showed he is also a very capable quarterback.
You could make a case for three other Outstanding performers on the day as Clark Hazlett, Matt Wilson and Matt Kvech all had tremendous days. Hazlett has had a great offseason thus far, with a great performance at the Winter Showcase and at the 7on7 in Las Vegas, and now has a great combine. Hazlett was near the top at each testing stating, and may have thrown the nicest ball. Wilson has been a warrior this season, getting better with each session. He tested very well, and shows a little bit of everything you want in a senior QB.
Kvech has shown up as of late, and been a great revelation. He tests well, and has shown great ability in the positional portion of the day. Kvech projects to the safety spot, but plays a LB type position for the Crusaders. Look for him to break out this coming season.
We saw Caden Lair last year when Barton Football came to Bellingham in 2013. Lair has good size, athleticism, and good footwork that allow him to play at the TE spot, even though he may project to the OL. Teammate Sterling Somers led Lynden to a state championship last season, taking over for the injured starter at the midway point. He also participated in 2013, and showed great improvement from last season. He has a strong arm, good athleticism, and great size. Somers solidified his spot amongst the top 2016 athletes.
A third Lynden athlete receiving honors on the day was Brody Weinheimer. He is a multi-talented athlete, who was a state wrestler as a freshman. Brody attended the Bellingham combine in 2013, and looked like a veteran out there this year. The Lynden football program is built on athletes like Weinheimer.
The Squalicum Storm showed they have some top end talent, as Coleman Schwab ('15 WR) and Nick Koetje-Manchester ('15 RB/LB), both showed very well. Schwab was one of the top testers on the day, finishing with the 3rd best 40-yard time, 2nd best shuttle and tied for the top Vertical Jump. Koetje-Manchester is one of the top rated RB's in the 2015 class, and he showed why. He has the ability beat you on the ground running or through the air receiving, as he does a nice job on both ends.
Two 2016 TE's in Scott McIvor-Garman (Sehome) and Evan Clasen (Mount Vernon) had very nice days. McIvor-Garman is a prototypical TE prospect, with good hands and sound feet. He could end up projecting to the tackle, but showed he is a very capable pass catcher. Clasen is a regular at Barton Events, and continues to get better by the week. He has worked hard this offseason, and is really starting to turn the corner. Both athletes are names to keep an eye on.
The lineman in the 2016 class showed plenty of promise as well with Nicholas Blair (Everett) and Paul Schander (Stanwood). Blair is a mammoth young man at six-foot-six and over 350 pounds. He has really come a long way since last year's Bellingham Combine, and has really started to gain a mean streak. I've seen Schander a few times in the last couple month, and he too is getting better by the day. He has a good punch, solid footwork, and likes to work. Both were near the top of the list for lineman.
Rounding out the Lineman were Ryan Thurston ('15, Squalicum), Tanner Steele ('17, Lynden) and Cody Swendt ('17, Lynden). Thurston has good size, active feet and a solid get off. He could have a breakout season next year for the Storm. Steele is already at six-foot and 200 pounds, with good feet and a solid punch. Swendt is undersized, but a hard worker, and not afraid to mix it up with the big boys. Steele and Swendt could continue a long line of good Lynden lineman.
Orcas Island has fallen on tough times lately, but two linebackers showed up Sunday and we given out positional MVP's, each would've been in the running. Jay Zier ('15) is one of the top Long Snappers in the state, but also showed very capable of being a factor at LB. He had good testing times, including the top vertical jump. Joseph Susol ('15) attended this combine last year, and showed great improvement from a year ago. He has good side-to-side movement, and has a nose for the ball.
A trio of QB's from the Lynden area rounded out the day offensively. Marcos VanderVeen ('18, Lynden), Ty VanDyken ('18, Lynden Christian) and James Marsh ('19, Lynden). All three show a lot of promise, and QB coach Greg Barton raved about their work ethic. The lone youth athlete on the day was Isaac VanderVeen ('22, Lynden), and he definitely didn't disappoint. He made several huge catches on the day that brought cheers from onlookers.