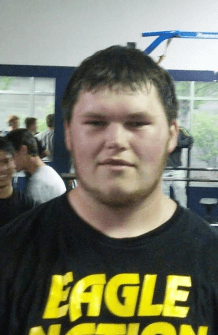 A kid we will hear a lot about over the next few seasons is freshman lineman Wynn Nevin (6-4 260 OL/DL) of Eagle Point. He possesses legit size and outstanding overall athleticism for such a young athlete.
First year head coach Seth Womack came from the college game and knows what a D1 lineman looks like. Nevin has unique coordination for a big man, while sporting a 4.0 GPA and excelling on the basketball floor. Wynn's upside is off the charts as he could easily reach 6-6, all while starting every varsity game as a freshman.
Referencing the future and Nevin Coach Womack said, "He's got a chance to be special and is just a very focused and talented kid." The Eagles finished (5-5) in their first year under Womack who made the move from D2 Oklahoma Panhandle State. The community has embraced his arrival with nine Eagle Point athletes from the 2014 class going on to play college football, highlighted by Peyton Dole's commitment to Air Force.
Nevin is currently squatting 350 with a bench close to 300 and he is incredibly coordinated. You can expect him to be ranked one of the region's top lineman for the 2017 class, and flourish under a coach who has legit college ties at all levels.
It' s not always easy to get recruited out of rural Southern Oregon, but with continued progression Wynn is the type of kid that could have high profile D1 universities making a special trip. We will keep you updated as EP will be young next season but a team on the rise.