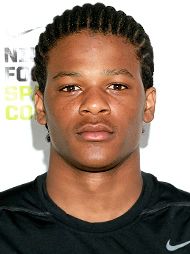 A player many of us thought was one of the top in-state wideouts in the 2015 recruiting class has made the decision to switch schools and Jayson Williams said, while it wasn't an easy one, it was the right move for him.
"My family moved to the Tacoma School district, so it made sense for me to transfer to Lincoln," Williams told Northwest Elite Index. "It was a tough decision for me because I have a lot of friends (at Curtis High School in University Place), but it was going to be a long drive for me to keep going to school there and it just didn't make much sense.
"I also already knew a lot of the guys here (at Lincoln) and that helped make it an easier decision."
Williams hit the ground running and enrolled at Lincoln right away, starting classes on May 5th, and began working out with his new teammates.
"They have a lot of talent here, so you definitely have to bring your 'A' game all the time," Williams noted. "It's good though. It pushes you to get better and I feel it's helping me improve every day."
As a junior this past season, Williams was a star on both sides of the ball for an 8-2 Curtis team as he totaled 23 receptions for 544 yards and seven touchdowns on offense while racking up 26 tackles, two interceptions (one he returned for a touchdown) and an eye-popping 29 pass breakups and he was named an All-Area punter as well.
"I just did anything I could do to help my team," Williams noted. "I'm much more natural as a receiver, but I can play on either side. I love to compete and play. I never want to come off the field."
On the recruiting front, things for Williams have been pretty steady, but he's still waiting for that first offer to roll in.
"So far, the schools I've talked to are Boise State, Colorado, Portland State and BYU," Williams said. "This summer, I am going to hit a lot of camps. I'm going on an SEC run to see a bunch of schools and go to some camps and then probably Louisville and Boise State and BYU for sure.
"I am open to anyone that wants to look at me and offer me. I will choose the best school for me and where I think I fit in best."
At 6'1″ and 185 pounds, Williams already has great size, but this summer he definitely wants to work on his overall speed and perfecting his craft.
"I am always working on my feet and my routes," Williams said. "I was timed at a 4.7 this winter and I definitely want to get that down to a 4.5, so I have been doing a lot of speed work and drills and working on my technique too."
We will continue to keep track of Williams' progress over the coming months and we will update news on him as it happens.