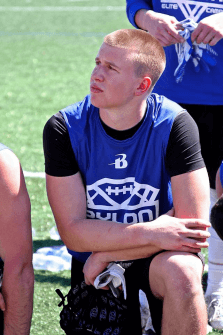 One of the fastest rising athletes in the state of Oregon is Parker Layton (6-2.5 205, '15 LB/TE) of Ashland. He earned 2nd team all league honors on both sides of the ball in 2013 and was a big part of the Grizzlies (12-1) MWL Conference title team.
Layton was one of two backers that we brought to Vegas as part of our 7 on 7 travel squad in March. While there he proved that he belonged, showing off outstanding overall athleticism. Parker projects as more of a LB at the collegiate level with a frame to add significant size.
He will return with Max Montgomery to form one of the top defensive duo's at the 5a level. Montgomery earned 1st team all state accolades as a junior and will be one of the top safety's in Oregon.
As most know Ashland is a tradition rich football town that is now feeling the excitement once again. The Grizzlies went undefeated through 12 games starting in Japan, before running into a very talented Sherwood team in the state semifinals. Parker has his eyes set on a 5a title as he says, "We bring back some talented kids and have a chance to be a very good team next season."
Layton earned LB MVP honors at our most recent camp/combine down in Medford and will be a conference player of the year candidate next season. He is one top dual threat athletes in the state excelling as a tight end on the offensive side of the ball. We look forward to following Parker and the Grizz into 2014, and will bring you updates as they happen