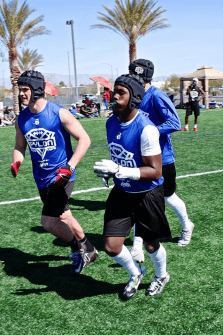 One of the fastest rising athletes in the Pacific Northwest is Marshawn Edwards (5-9 170 Jr. ATH) of Parkrose. He has had one of the most impressive off season's of any player in the region, after a standout 2013 campaign that saw him earn 1st team all league and 2nd team all state honors.
Edwards caught 36 passes, for close to 500 yards and 10 TD's from NWOC Player of the Year Jonathan Boland. He will be listed as one of the top ATH's in Oregon when the updated 2015 rankings are released shortly.
Referencing the upcoming season Marshawn says, "I would like to acquire first team all state accolades and help my team to the state playoffs". Adding, "I plan for my team to be very successful this year, even more than last year." The Broncos went (6-4) last season with head coach Mo France directing one of the best groups the school has had in some time.
Marshawn attended our elite events this winter, and was one of the top athletes on our Team Oregon 7 on 7 All Star squad that we took to Las Vegas in March. Speaking on the elite events and Vegas he says, "The Vegas experience was terrific as it showed me nationally ranked competition and let me know I could compete at a very high level of play". He continued, "The elite events helped me a tremendous amount with my route running ability and my speed in and out of my breaks, while competing against the top kids in the state."
Edwards is impressive on and off the field and will succeed at whatever he decides to pursue in life. He has become a Barton Football/NEI favorite and is just a phenomenal overall kid. We will look forward to seeing a much improved Parkrose team that could compete on a state wide level in 2015.