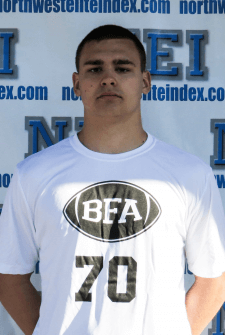 One of the top teams in Washington's 3A classification next season will be the Juanita Rebels of Kirkland. They are a talented group, with possibly one of their top upperclassmen being runningback Austin Cole (2015, 6'0″ 200).
Cole will be the feature back for what could be a high powered Juanita offense. Last season he finished with over 9 yards per carry, and 11 TDs. At the end of the year, Cole was voted first team All-Kingco by the conference's coaches.
"Being selected as a first team All-Kingco RB was such an honor," Cole told NEI. "It was my first year in the Kingco league so it was very unexpected. Being selected was a great validation of all of the hard work that my teammates and I put in. I couldn't have done anything without my teammates. Those early morning workouts get tough at times and seeing that all of that work pay off was awesome."
The expectation level at Juanita has risen over the past few seasons, as head coach Shaun Tarantola and his staff have done a great job at developing the young talent. The Rebels play in arguably the toughest conference in the state, but that hasn't stopped them from setting some big goals.
"My personal goals are to improve on my overall stats from 2013 and to lead my teammates by setting a good example in the classroom, in the gym and on the field," Cole said. "As always it is our (team) goal to win league and go to the state playoffs. These are very high goals, but I don't believe in setting goals that are easily attainable. You must push yourself and your team if you want to reach your full potential."
Cole actually started his high school career at Battle Ground High School in Southwest Washington, before moving to Kirkland and joining the Rebels. Moving to a new school is always hard on high school athletes, and speaking up as a leader may not be one of Cole's strengths.
"I feel like I am much more of a lead by example kind of person," Cole says. "So in order to reach my personal goals, I have committed to being the best student athlete I can be. I am taking my studies very seriously and will continue to improve my GPA.
"I have become a gym rat and love the process of getting bigger, stronger and faster. When I am on the field with my teammates or with Coach Hurst at the BFA workouts I am focused and trying to make myself better with every snap. By improving myself and working hard I hope to be the example that my teammates need to motivate them to achieve all of our goals."
Leading by example is precisely what Cole has done. To date he is on top of the Juanita Offseason Workout standings, a list of which players have attended the most sessions.
He as a varsity basketball player for the Rebels this past season, carries a 3.55 GPA, and is also a Safe School Ambassador at the High School. To say he is the definition of the term "Student-athlete" may be a bit of an understatement.
I look forward to watching Austin work the rest of this offseason, as he and the Rebels work towards their ultimate goal.