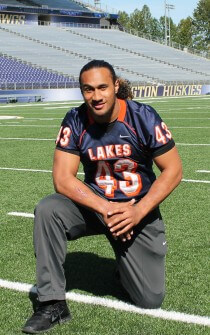 It's been a busy spring for Lakes (Lakewood, Wa.) DL Benning Potoae and it's going to be a busy summer as well. Northwest Elite Index caught up with the top-rated prospect recently and he updated us on his summer itinerary.
"I've sorta been planning out my summer and where I am camping," Potoae told NEI. "I'm going to visit Washington for their Rising Stars camp, I'm going to go to the Oregon Nike NFTC and then out to Ohio to go to camp at Ohio State.
"I think I may hit a Poly camp too and then maybe one more, plus the ones we do with our team, so it's going to be a busy couple of months for me."
On the recruiting front, Potoae has met coaches from across the country and he currently claims 16 offers — Arizona, Arizona State, Boise State, Cal, Colorado, Idaho, Ohio, Ohio State, Oregon, Oregon State, UCLA, USC, Utah, Washington, Washington State and Wisconsin — and more top programs are giving him a long look right now.
"Michigan, Florida State, Alabama, LSU and Arkansas are all looking at me and are evaluating me," Potoae noted. "Alabama wants to see some of my games this year and Michigan is looking at my film now and a bunch more are just looking at me and evaluating me right now."
As far as a timeline is concerned, Potoae continues to maintain that he plans to take all of his official visits and will not decide until he's gotten information on all of his top schools and seen them in person.
"It'll be after my senior season for sure," Potoae told NEI back in February. "I want to see all of the schools and just take my time. With my brother, he already went through the process before so I have sorta seen how the process works and that will help me make my decision and it'll make it so that I don't rush it."
At 6'4″ and weighing in at 255 pounds, Potoae has been a physical freak since we first got a look at him as an eighth grader at a local camp.
Over the past two years, the talented prospect has been the focus of every offense his team has faced and thus he's really had to work hard at putting up stats to go along with the lofty expectations heaped upon him.
"It's been tough, but I just keep going, keep grinding on it," Potoae noted. "I had 66 tackles and nine sacks this year and I also played tight end and I had three touchdowns on offense.
"I do whatever my team needs from me. I love to play and compete and I like it that I don't really come off the field much during the game."
We will have more on Potoae in the coming weeks and months as he continues to make his way through the recruiting process.