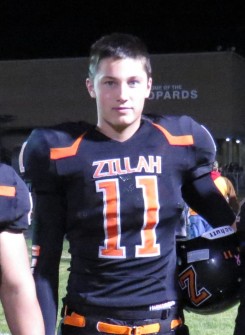 One of Washington's most unknown athletes is Justin Dunsmore ('15) of Zillah High School.
The six-foot-six inch, 215 pound Dunsmore excels on both the football field and basketball court, even helping the Leopards to a State Basketball Championship this past season, after being named first team All-SCAC for the second straight season, and picking up first team All-State.
"I sometimes still can't believe I am a state champion but it is awesome and something I will never forget," Dunsmore told NEI. "Going into the season, I knew we had the potential to be a very competitive team but after the way last basketball season ended (being upset by Cashmere in regionals), I was a bit hesitant to think we may be able to go all the way.
"Once we hit districts this year though, I knew we had it in us to go all the way and we did just that. 27-0 and an absolutely perfect season."
Work on the hardwood started earlier than anyone had hoped, when the Leopards were knocked out early from the state football playoffs. Zillah's offense was the definition of run-heavy, and Dunsmore was only given the chance to throw 88 times on the season.
Dunsmore completed 64% of his passes, for just over 1,000 yards, with 16 TDs and one interception. At the end of the season, he was voted first team All-SCAC by the league's coaches.
"It definitely was an honor," Dunsmore says. "I need to give credit to my teammates, especially Brady Widner, Kurt Calhoun and all of the Offensive line for their hand in my success."
Zillah will be struck hard by graduation next season. They lose two of the state's top players in Kurt Calhoun and, 1A State Player of the Year, Brady Widner. Those two alone account for more yards than most offenses state-wide.
"I am ready to step up to the challenge," Dunsmore said. "I will be training all summer both in and out of the weight room. Last season, several of my receivers and I spent many hours at our high school field running routes and preparing for the season. Since my early days of playing any sport, I have always been one of the players who has led the team, not only in stats, but my work ethic, knowledge of the games and positive attitude."
Right now the offseason training is a bit on hold. In May of 2013, Dunsmore suffered a severely sprained right ankle that would sideline him for over a month. The injury never did heal correctly, while Dunsmore battled through the pain during both football and basketball season.
"Mid-basketball season I consulted with an ankle surgeon who informed me I had ligament damage, bone spurs and impingement in my right ankle," Dunsmore noted. "I scheduled my surgery for right after the state tournament. Although it killed me, I knew I had to sacrifice playing baseball this year to have surgery and get this issue taken care of. I wasn't about to miss out on summer training recovering from surgery."
Dunsmore is now out of his cast and working through the rehab process. His offseason will really pick up in June when he should be able to begin more of a full workout. He will be volunteering at many Yakima Valley youth sports camps. He maintains a 3.5 GPA, and plans on running for ASB President.
Recruiting is light on the football front, he has heard from a few schools about basketball, but things will surely pick-up when Dunsmore is able to get out and showcase his abilities.
The school that is willing to take a shot with Dunsmore will be pleasantly surprised. His numbers do not reflect his abilities, as he has all the physical tools most teams covet in a Quarterback. With a strong work ethic on and off the field, the sky truly is the limit.