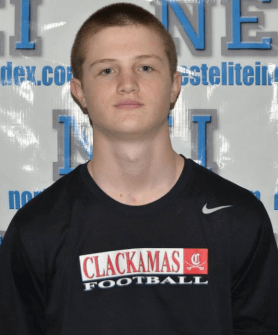 One of the more talented kids in Oregon returning next season will be Hayden Kirsch (6-1 185, 2016, FS/WR) of Clackamas. The free safety is coming off a 2013 campaign that saw him earn 1st team all TRL honors at safety.
Kirsch will be a 4 year varsity kid that also earned 2nd team all conference accolades as a sophomore. This past year he was 2nd on the team in tackles with 78 while adding 3 INT's. Referencing next season and the talented senior class that is graduating Hayden says, "It's hard to replace some of our talented senior's, but many young guys are ready to step up and take their places."
The Cavs went (10-3) this past year advancing to the state quarterfinals before being up ended by eventual state champion Central Catholic. Speaking on the top kids returning Hayden added, "I like what I'm seeing from our guys this off season, everybody's working hard knowing we have something to prove". He continued, "Next year we will have 7-8 returning starters on our defense which will be the strength of our team, with Brett Peterson, Aidan Kragero, Nate Kemp, and myself all assuming a leadership role."
TRL Player of the Year Daniel Sherrell, D1 commit Brody Haehlen, and all everything athlete Zach Farnes, among others will be sorely missed. That said Joe Bushman's group does have some experience returning with Kirsch getting in the mix at wide receiver. Standout Nick Krska also returns after catching 42 passes for 674 yards and 2 TD's. Over the last two seasons Hayden has accumulated 122 total tackles, 12 pass deflections, and 6 sacks, as he will be one of the all time career statistical leaders among DB's by the time he is done.
Bushman does a great job and will have his guys ready to go again. Hayden added, "This will be my 4th year playing varsity ball and I am ready to take over as the leader". Adding, "Cole Nimz is becoming a Brody type player with his work in the weight room, while Bryce Dickey and Kemp will do a great job leading the defense with myself."
Kirsch will be one of the top senior's in Oregon and we look forward to following the Cavs in 2014.