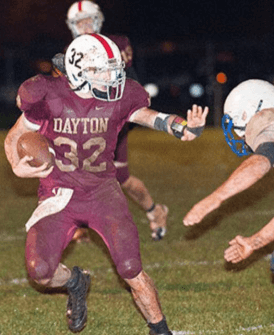 A name you will hear mentioned among state player of the year candidates next season at the 3a level is Tyler Clark (5-10 195, 2015, RB/LB) of Dayton. The small school running back showed up at the largest Oregon (BFA) Camp/Combine last weekend in Salem, and earned MVP running back honors. He went for 28 TD's (24 rushing, 4 receiving) as a junior while rushing for 2,063 yards on 190 carries.
As most know the Dayton Pirates are a state title contender each and every season, going (45-4) covering the last four years, while winning the 2012 championship. They came up short in 2013 losing 19-15 to Nyssa in the state semifinals.
Referencing next season and some of his guys the all state back said, "Tony Alvarez has great hands and makes defenders miss all the time, he is a fantastic D end and I love it when he's on my side of the ball." Clark also made 51 total tackles from his LB spot.
Adding on to his thoughts Tyler says, "Jarred Ashley stepped up as a sophomore and filled in nicely for some all state WR's who had graduated, while his big brother Darren plays QB and is also a great ball player." The Pirates will lose most of their lineman which will be tough to make up for but Clark added, "Cedric Stahl has started for us since his sophomore year and he will be a key for us offensively."
Tyler is a three sport athlete (Baseball, Wrestling) starting at catcher on the diamond since his freshman season. His overall athletic ability was one of the key components to his MVP performance last Sunday, competing among the region's top 5a and 6a athletes.
Head coach Brodie Unger has done a great job with the group and you can bet the house they will be relying on Clark to have a big year in 2014. We wish the Dayton football community continued success and will bring you updates as they happen.