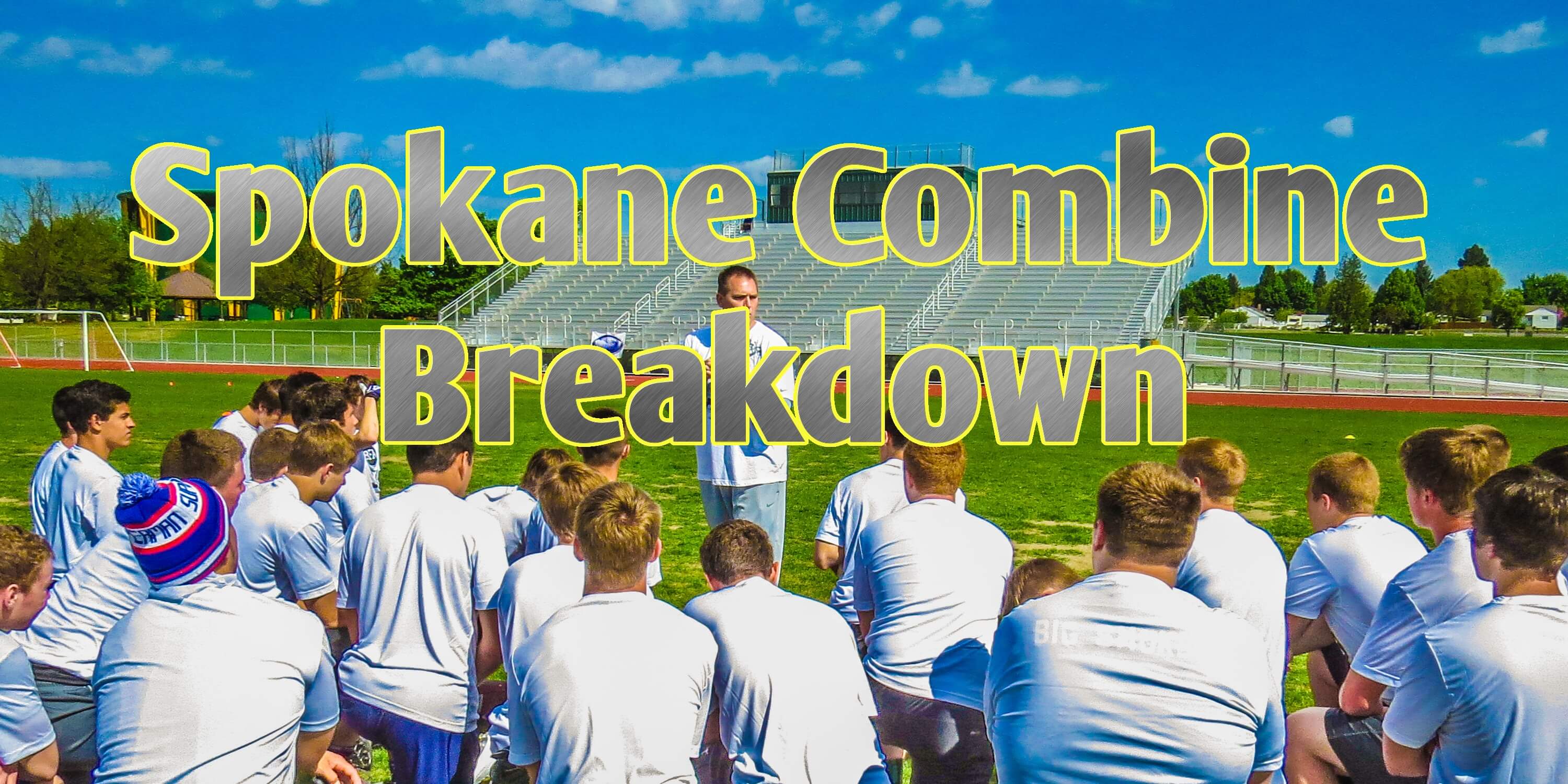 Overall Camp MVP:
Jace Navejas
Kamiakin – WR/DB – 2016
Offensive MVP:
Brett Rypien
Shadle Park – QB – 2015
Defensive MVP:
Tyler Puletasi
Mead – LB – 2016
Offensive Line MVP:
Kyle White
Shadle Park – OL – 2015
Defensive Line MVP:
James Pak
Bellarmine Prep – DL – 2015
Underclass MVP:
Evan Weaver
Gonzaga Prep – DL – 2016
Breakout Performer:
Jack Bamis
Gonzaga Prep – RB/LB – 2015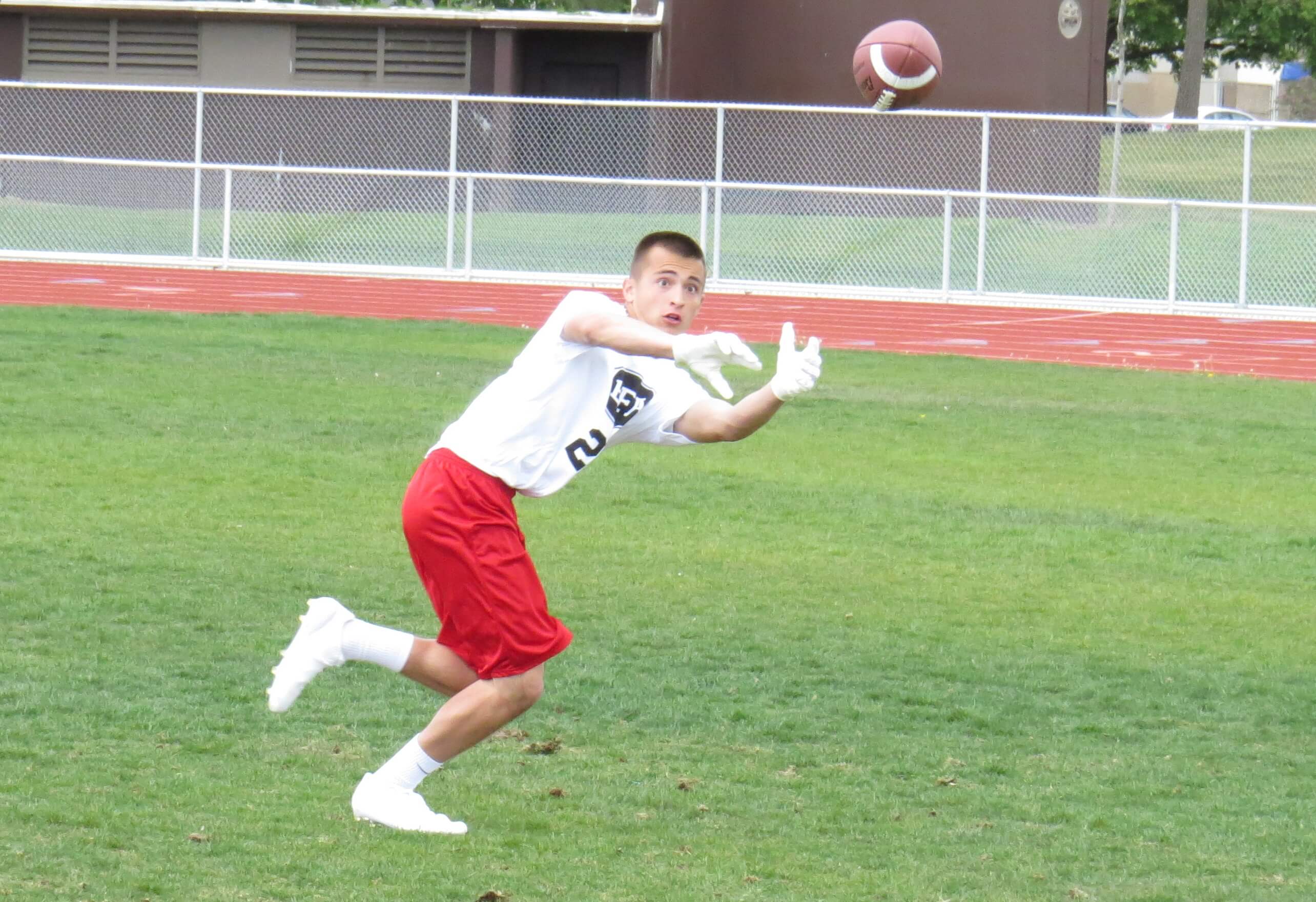 For the second straight year the Barton Football Academy made the trip to Washington's largest city east of the Cascade Mountains, stopping at Shadle Park High School in Spokane. The Eastern side of Washington is neglected to an extent, so BFA feels necessary to make the trek out east to see what they have to offer.
Pulling in Camp MVP honors was Jace Navejas of Kamiakin High School in Kennewick. Jace is a multi-talented athlete that excels on both sides of the ball. He spent the day working at WR, and Barton Football coach Mike Bush raved about the sophomore athlete. He finished tied for the fastest time in the 40-yard dash with a 4.62.
Brett Rypien is one of the top QB's in the Nation. He had a bit of a whirlwind weekend that saw him travel to the Bay Area for an Elite 11 Event on Friday, Tri-Cities for baseball on Saturday, and back to Spokane for the combine on Sunday. Already committed to Boise State, Rypien took the opportunity Sunday to work with QB coach Taylor Barton, while also getting the chance to throw to a few of his receivers.
Defensive MVP Tyler Puletasi is an exciting athlete. He is still very raw at Linebacker, having moved there just last season. He showed above average coverage skills, a great ability to get to the quarterback, all while having tremendous upside. Puletasi is the type of athlete you will want to keep an eye on.
The line group wasn't the biggest of the tour stops, but the quality was there. Kyle "Big Smoke" White was a force on the offensive line. He has a good punch, solid feet and a little bit of the nasty you want in your offensive lineman. Defensively, James Pak of Bellarmine Prep High School in Tacoma walks away as the MVP. James is coming off an injury plagued 2013 season, and has been working very hard to get his game back. He shows good burst coming off the end, as well as the toughness to play inside. Both athletes could have breakout years in 2014.
A pair of exceptional Gonzaga Prep athletes round out those taking home accolades. Evan Weaver already holds an offer from Washington State, and he showed why on Sunday. He has a tremendous burst off the line, good hands, and just finds a way to get in the backfield at every chance. Jack Bamis was one of the most impressive athletes on the day. Everything about him say D1 athletes, while he is still very raw. He started at RB, but also saw time at LB/DE and did not disappoint. He may have been the days most impressive pass rusher.
Rounding out the Quarterback position were Jon Snell (2015, Hanford) and Evan Spiel (2017, Kamiakin). Snell has an accurate arm, led by good feet. Spiel is still raw, but really slings the ball around with good accuracy and surprising arm strength. Had it not been for a high level D1 QB, either one of these guys was capable of taking home offensive MVP honors.
Along with two previously mentioned athletes, the Kamiakin Braves had a total of six athletes in attendance. Tyler Herman ('15, LB) was in the running for Defensive MVP. He is an above average athlete, that is looking to build on his second team All-State award from last season. Korbin Sorenson ('16, OL) had an interesting day. He faced a little adversity during the one-on-one portion, but continued to fight and got better with each rep. He is a big bodied athlete (6'4″ 250), that has the frame you want when looking for lineman.
Gavin Crow ('16, DB) and Dalton Tuveson ('15, LB) round out the Kamiakin crew, and competed very well. Crow has good size being just a sophomore, and looks to be one of the better DB's in the 2016 class. He finished with the fastest shuttle time of the day (4.22). Tuveson is a bit undersized for his position, but he competes had. He has good speed and is a name worth watching.
Like Kamiakin, the Shadle Park Highlanders were well represented, with eight total athletes. Leading the way with Rypien is Cam Duty ('15, WR). He is a multi-talented athlete, that will see plenty of time this coming season. He tied for the fastest 40-yard time, and was a leader in his group. Sam Stratton ('15, WR) will be another feature wideout for the Highlanders next season, as they look to replace lots of productivity. He is a huge target, and projects to the TE spot.
Being a RB at Shadle Park can be very tough, considering they throw the ball more than any team I know. Michael Morris ('15) did a tremendous just on Sunday at the RB, and projects at an ATH. He did a little bit of everything, that should translate over to the season.
The 2017 recruiting class at Shadle Park brought us Ryan Weir (WR) and John Murphy (RB/Line). Weir has pretty good size for a player of his age, and showed good route running/hands on the day. Murphy is a bit of a load at the RB spot, and did show his skills on the DL as well. Getting an early look at Steven Hancock ('19, OL/DL) was fun. He got beat in one-on-ones, but kept fighting and really ended up impressing Barton Line Coach Scott Enyeart.
Also getting good reviews was Chase Gyllenhammer ('16, OL/DL) and Jerry Impecoven ('16, DB) of Mount Spokane High School. Gyllenhammer was a first team All-GSL member last season, and showed why. He is a tough kid, with a good punch and solid feet. Impecoven is a player I did not know before the day, but was very impressed. He really flies around the field, after testing very well.
Mount Spokane teammates Austin Avery ('16, OL/DL) and Mike Schupp ('15, RB). Avery is a bit undersized, but competes very hard. He showed good punch, and has a good understanding of how to play the offensive line. Schupp tested very well, and will be added to our 2015 RB rankings in the very near future.
Ethan Snow ('16, WR) and Luis Medina ('15, RB) both attended their second combine of the season, making the trek up from Hermiston, Oregon, and showed good improvement. Snow has good size at about 6′ and moves well for his size. He has good hands, above average route running, and appears ready to breakout this coming season. Medina is a powerful back that runs well. He has good side-to-side movement, and was possibly the top back on the day.
Two other Hermiston athletes were Cory Adams ('15, RB) and Chris Gonzalez-Rice ('16, DB). If Medina is the thunder, consider Adams to be the lightning. He is smaller than Medina and can fly. He had one of the better 40-yard times. Gonzalez-Rice may have been the top DB in attendance. He has good size and can flat out move. He was close to the top in both testing categories.
The Mead Panthers have been one of the top programs in the state before last year, and look to be moving up again this season. Along with Puletasi taking home Defensive MVP honors, four other Panthers, Matthew Brown ('17, TE/DL), Trevor Senn ('17, RB/LB), Dedrick Pakootas ('17, RB/LB) and Cody Connall ('17, RB/DB), all showed up and competed very hard.
Caleb Kopp ('15, WR) of Rearden was a fun one to watch. Kopp plays in the 2B classification, which doesn't get a lot of publicity, but showed he can flat out play. Kopp has good route running skills and tested fairly well. With more hard work, Caleb could have a breakout season.