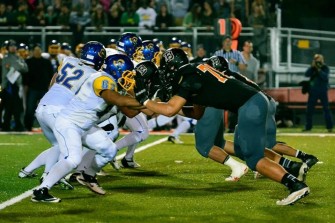 It was a unique Wednesday for one of the region's top lineman in Jared Hilbers (6-7 275 Jr. OL/DL) of Beaverton High School . The big man received three D1 offers, including his first out of the Pac 12 from Washington State. Colorado State extended an offer early with UNLV and the Cougars making the move late.
It could be the first of many for the dual threat big man who possesses outstanding overall athleticism. Referencing the offers and the day in general Hilbers said, "I wasn't expecting to get any offers this soon and was thinking it would happen towards the end of the summer, or at camps, so it all kind of took me by surprise". Adding, "I am interested in all of the schools that have talked to me, and also the three that have offered me as I'm not quite sure where I want to go."
Jared is in for an exciting off season on the camp circuit as you can't teach 6-7 and athletic. He was a 3rd team All Metro D lineman in 2013, but could project as more of a blindside offensive tackle. Regardless of where he ends up he gives universities multiple options which is obviously very appealing. The potential is there for the Beavers to have one of their best season's in some time and Hilbers is a big reason why. Congrats to Jared on his big day, we will hear much more from him in the weeks to come.