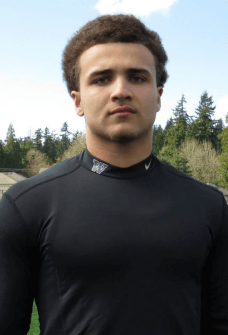 Exciting news coming out of Tacoma where Jusstis Warren (2015, LB) picked up his first offer when the University of Idaho coaching staff made their intentions know.
"Coach Cink (Kris Cinkovich) called me while I was at Chambers Bay skipping rocks after a workout," Warren told NEI. "He called and said how much he loved the heart and competiveness I have. We talked about football, the position I will be playing next year and how my grades are, and he was impressed.
"He then said keep to working in the classroom. Then he wanted to officially let me know I have a full scholarship to the University of Idaho and we talked about getting down to camp sometime this summer."
Jusstis is one of the most humble athletes I have ever met. He has worked very hard to get where he is at today, even over coming a knee injury just over a year ago. Picking up his first offer truly has been a fight with adversity.
"It's truly a blessing," Warren says. "Been praying and keeping faith in god, I can't wait to see what Idaho has to offer me. I am ready to pick up some more (offers) so I can see what other colleges have to offer a student-athlete and truly pick the one that fits me the best when signing day comes. I am just excited and ready to start spring ball June 1st with all of my brothers."
Picking up more offers is something we see in Jusstis' future. He is a highly talented athletes with an unbelievable work ethic. Right now he is hearing from over half the Pac 12, multiple mid-majors, most of the Big Sky, a couple service academies and even some Ivy League schools.
In closing, Warren says, "I want to Thank God because without my faith in him this would not be possible. I want to thank my mom who has always been there for me through the tribulations and struggles I've had to go through in life and all my coaches over the years.
"Whether at the Eastside football program where I grew up and emerged to the man I am today,or the lakes football coaching staff , and of course the coaching staff at Lincoln more in particular Jon Kitna who has been there for me since I set foot at Lincoln. I want to thank my extended families that treat me as if I were family, and lastly want to thank my brothers my guardian angel in heaven who are keeping a good eye on me and motivate me."
From the first time I saw Warren there was no doubt in my mind he is a Division-1 athlete. Seeing him pick up his first offer is an exciting moment for him, as well as us at NEI, we know how hard Jusstis has worked. We look forward to updating you on future offers.