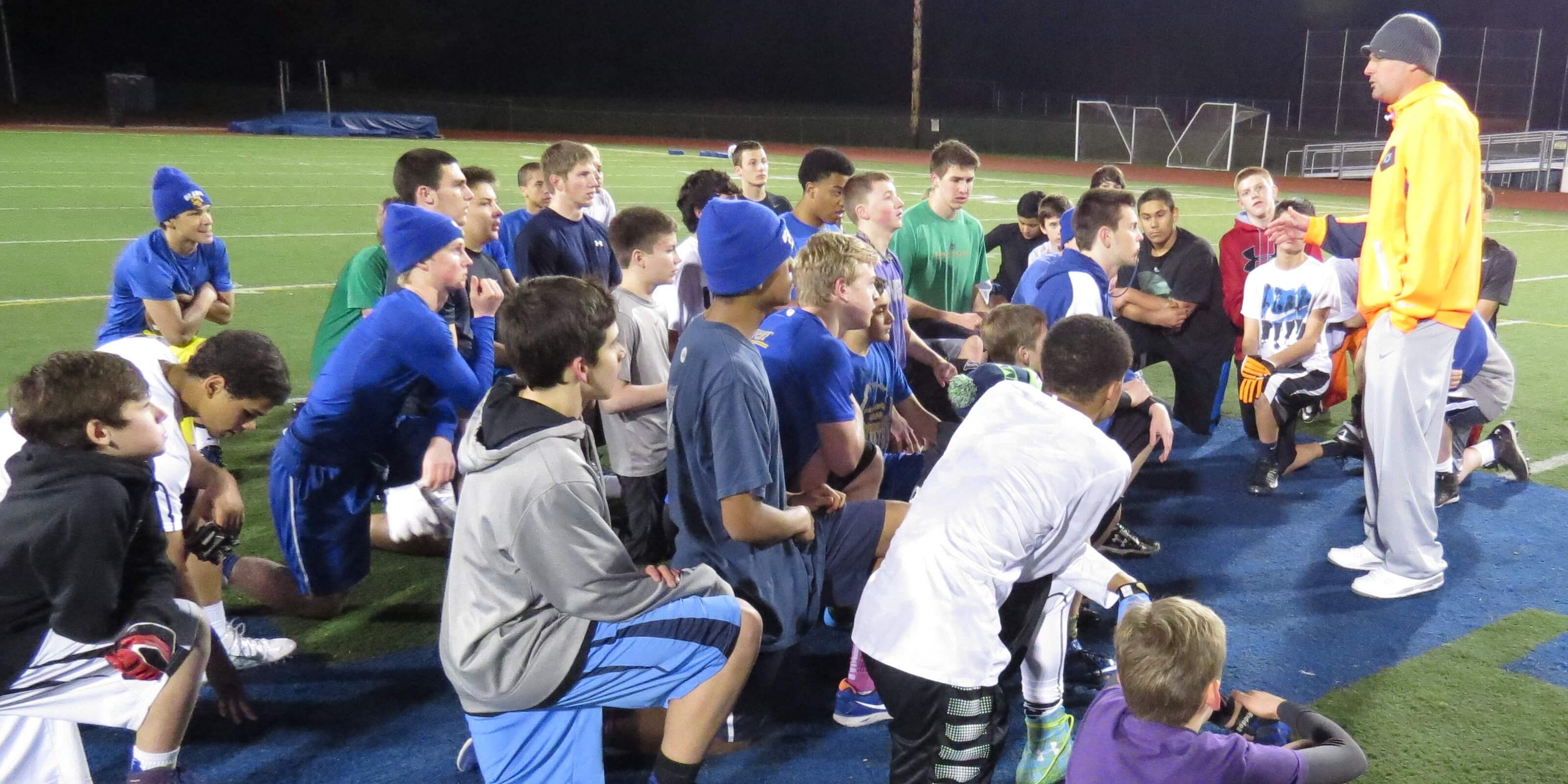 From Omare Lowe and Erik Totten playing their way into the NFL, to this past season with All-State WR DeShon Williams, Tahoma High School in Maple Valley has had plenty of top end talent over the years. One constant has been head coach Tony Davis, who will be entering his 21st year at the school.
A new crop of Bear athletes are looking to uphold the steady tradition that has been built, and they look to be headed by a pair of 2016 athletes in Amandre Williams (QB/DL) and Michael Clausen (OL/DL). Both athletes were selected as second team All-SPSL North members this past season, and have shown great leadership thus far in offseason workouts.
"While playing under coach Davis, I, along with many of my teammates, have learned many things," Amandre says. "We have not only learned how to play the game with class, but more importantly we have learned what it means to be a man. This goes beyond the game of football. Everybody here has tremendous respect for coach Davis and we all have bought in to what he has to say."
At six-foot-three and 230 pounds, Amandre Williams, younger brother of DeShon, looks every bit the part of a D1 talent. It may not be a surprise to some, as his father, Tyrone, played defensive tackle for a few seasons in the NFL, before becoming a star in the Canadian Football League.
Amandre has a huge arm, and has really worked hard this offseason refining his throwing mechanics so he is able to make all the necessary throws within the offense. He is developing himself into a legitimate dual-threat at Quarterback, but it has been his work defensively that has garnered him praise thus far in his young high school career.
"I was originally a TE/WR who was moved during training camp my freshman season because of my arm strength," Williams said. "I have never truly been taught the mechanics of a quarterback. Everything was just natural. I decided to work with the quarterbacks on Sunday instead of the DL because I wanted to learn how to play the position the right way. I needed a way to learn how and train to be a quarterback so I sought help from Taylor Barton."
Michael Clausen may not be the same physical specimen as Williams, but he brings unrivaled athleticism, a great work ethic and tremendous leadership. At six-feet tall, and just under 210 pounds, he may be a bit undersized, but knowing that is his greatest strength.
"My relationship with Mike goes back to middle school," Williams noted. "He's been my best friend and my brother throughout our years of sports. He works hard and commits himself to everything he does whether that be on the football field, in the weight room, or in the classroom. He is one of the most selfless individuals I know and always puts the team before himself. Mike is an incredible athlete and person with an incredible sense of responsibility and ownership."
Another player that has stood out thus far is WR Sam Paige. He works hard every week and has shown a great ability to learn. Paige is a 4.0 student, taking multiple AP courses, while also throwing the shot put and discus for the track & field team. Like most of the Bears, Paige is a big advocate of the "team" aspect of the game.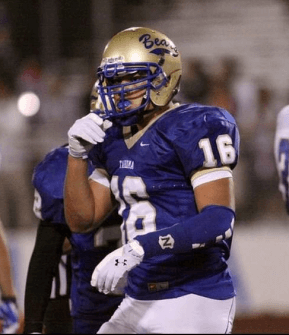 "Our team is always trying to be better for each other," Paige says. "That's one big goal for the team which is just to be better for each other. But our big main goal for the team is to become the SPSL League champions and go on to win in the Tacoma Dome this winter. That is what everyone on the team wants and will stop at nothing to help each other achieve."
Williams and Clausen both echoed Paige's thoughts, with Williams adding, "Our team goals go beyond just our win and loss column. As a team, we would also like to become closer as a family."
All three athletes are quick to turn focus to their teammates. A name that pops up a lot is senior LB Blake Donahue. He is given credit for his tenacity and overall passion for the game.
"Blake is a prime example of not judging a book by its cover," Clausen said. "Yes, he's small and a little lightweight, however he hits like a truck and doesn't care how big you are. On the field he's a different person. So energetic and physical. He always hits the right gaps and has a nose for the ball. Great guy in the hallways as well."
Should Williams win the starting job at QB, you could have one of the better offensive backfields in the SPSL when you add in RB's Jerome Woods ('15) and Bryson Stubbles ('16). All three athletes rave about the two backs, with Williams describing Woods as a freak athlete that runs hard, while Stubbles is a player that seems to enjoy the contact involved with the position.
The anchor of the line appears to be Kingston Suka ('15). He is a physical player that is surprisingly athletic for his size. "There's nobody on this team that is physically stronger than Kingston," Clausen states. "He just has a presence about him that makes you know no matter what know everything is going to be all right. He's mentally strong and can always be counted on."
Helping Suka on the line is Brody Sullivan ('15). He is a bit undersized, but doesn't let that stop him from being one of the best. "He will make sure you never want to line up against him again," Clausen said. "When you least expect it he can put you in your place real quick. Brody really knows how to flip the switch and get the job done. Brody constantly helps others and makes sure they know their assignments."
A few season's ago the Bears made the switch from a power running game, to a spread offense with receivers all over the field. This year's group features plenty of weapons and is probably the deepest position. OJ Jenkins ('16) and Jordan White ('15) are considered to be two of the better receivers on the Bears' roster, both being praised not only for their skill, but they work either and up-beat attitude.
Adding to the depth at receiver are Evan Greenwood ('15), Caleb Brown ('16), Austin Brown ('16) and Cole Peckham ('16). Any one of the six receivers mentioned is capable of being the team's leading receiver in a given week.
While the receivers will be making up for the graduation of DeShon Williams, the Quarterback spot is not a given as of yet, as the coaching staff is still searching for Shane Nelson's replacement. Williams looks to be an early leader, but that's not to say that senior-to-be Damian Marachic isn't capable. Marachic is a left-handed gunslinger, who is more well-rounded than Williams, but not the same athlete. Both QB's really do compliment each other.
The future of the QB position looks very bright for the Bears, as Hunter Wendling ('18) is one of the more advanced QB's in the region. He has had a ton of success leading up to this point, and is one of the hardest working athletes. He is a player you will want to keep an eye on.
I may not be able to predict which players will be starting at each position, but I can tell you one thing, they will be well prepared. They have been working hard all offseason and have a shot at being one of the better teams in their division, which now includes the four Kent schools.
I look forward to watching the Bears improve throughout the rest of this offseason, and into what could be a big year for them.