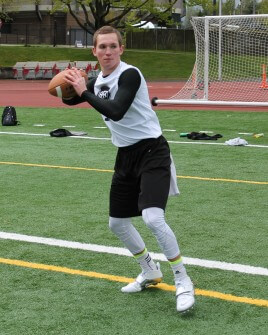 As summer nears, high school prospects around the country are getting ready for the busy time of year where summer football camps are in full throttle. Players want a shot to showcase their skills and convince college coaches they're worthy of a scholarship and to don a program's jersey in the future.
For Bellingham, Wash., quarterback Clark Hazlett, who will suit up for a new prep school next season (see below), he's ready for the task that lies ahead of him. The 6-3, 205-pounder doesn't yet hold any offers, but the phone has been steadily ringing since the winter with schools recruiting him.
"Things really started picking up for me after the fall," Hazlett said. "I've been in touch with Sacramento State, San Diego, Northern Arizona and a few other programs. I've been on seven visits so far to college campuses and that was a great experience. It's been mostly on the west coast. I'm still waiting on my first offer, but I'm ready to show schools I'm worthy."
The schools Hazlett has already visited are Sacramento State, San Diego, Northern Arizona, UNLV, San Diego State, Boise State and Eastern Washington. In just a few weeks, Hazlett, who threw for over 1,300 yards and 11 touchdowns for Squalicum High School last season, will begin his summer camp tour. Hazlett will trip to San Diego on June 1, Sacramento State June 3 and Northern Arizona on June 7. Those schools, he said, are his current top three.
"All three of those schools want me at their camps and the coaching staffs told me they loved my film," he said. "I think it's more of them wanting to see me perform in person first, though, before they throw me an offer. It's more a reassurance thing I think. I'm going to go down to the camps and I'll be ready to compete. I'm going to show them what I got and I'm confident in my abilities. It should be a lot of fun."
Also early next month, Hazlett will begin his new career with the defending Washington state 2A football champion Lynden Lions. Hazlett informed NEI's Ryland Spencer on his intentions of transferring from Squalicum to Lynden on Thursday evening and spoke more about the decision with me later in the evening.
"It's one of those things where my parents are moving out there and my dad wanted to be closer to his work," Hazlett said. "I could have made the commute every day to Squalicum, but it just makes more sense for me to stay in Lynden and go to school there.
"It'll be different, but I'm excited for the change. I broke the news to my teammates and coaches at Squalicum yesterday and they were receptive of it. I'm excited for this new journey."
He'll enter spring ball with both Sterling Somers and Lucas Petersen ready to compete for the starting job, however. Petersen threw for 907 yards and nine touchdowns last season before going down with a broken wrist during practice in week seven. Petersen returned late in the postseason, but as a defensive back. His replacement, Somers, closed out the season with 1,123 yards and 16 touchdowns in the final eight games of the season.
"I'm excited to go out there and compete," Hazlett said. "I know some of the guys through AAU basketball and I know they work hard up there. I'm looking forward to meeting some of the new guys and learning the offense."
It'll be a busy summer for Hazlett, no doubt. Only time will tell if he gets the monkey off his back by landing his first scholarship, but the talented young gun slinger is ready for his shot.