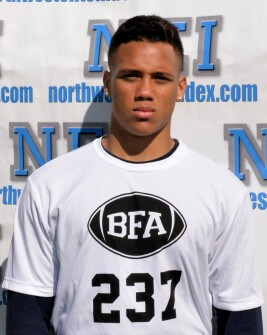 A team that could get in the mix at the 5A level over the next two seasons is Liberty HS of the Northwest Oregon Conference. Junior to be Devin Thompson (6-0 205) earned 1st team all league honors in 2013, and will be one of the top linebackers in the state for the class of 2016.
The Falcons went (5-5) last season, losing 17-6 to Mountain View in the state playoffs, but have a legit crew coming back. A very talented junior class will compliment some talented senior's led by Byron Greenlee (6-3 210 '15 WR/CB) who is one of the top dual threat athletes in the state. Greenlee earned 1st team all league honors on both sides of the ball and has D1 size. Expect him and fellow 2015 athletes Zane Chitwood (5-11 255 '15 OL/DL) and Austin Mason (5-10 185 '15 ATH) to play a key role.
Speaking on the future and his overall team goals Thompson says, "I would like to earn 1st team all state honors and hopefully snag my first offer this upcoming season, but I know that won't be easy". Adding, "I'm hoping to help my team stay focused and determined, while winning the league championship and making a run in the state playoffs."
Devin recently earned MVP LB honors at Oregon's largest BFA Camp and Combine in Salem. He ran well and was fluid with his hips, looking like the top sophomore backer in attendance.
Referencing some of his teammates Thompson said, "We have a lot of junior talent returning with Blake Walker (6-4 170 '16 QB), Devin Kaneshiro (5-7 170 '16 RB) , Kaelin Himphill (6-1 200 So. LB) and some other athletes that could really surprise some people."
Walker will be one of our top ranked Junior QB's in Oregon next season and a projected three year all league starter, earning 2nd team all league accolades in 2013. Kaneshiro was another 2nd team all league kid and will be a NWOC player of the year candidate offensively before he is done.
Many remember the best athlete ever to come out of Liberty in Brett Bafaro, now with the Oregon Ducks. His younger brother Brayden Bafaro (6-2 180 '16 LB) will be a kid that plays a big role.
In closing Devin says, "I think everyone is ready to shock the league as we are developing into a solid program, with our athletes and student body excited for the upcoming season."
The NWOC is traditionally one of the top conferences in the state and the Falcons will have their best shot in school history to compete for a league title. We will bring you updates as they happen.