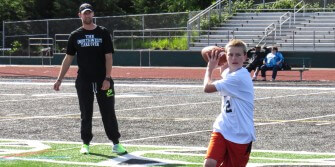 Trevor Davis: Trevor is a young QB with huge upside. On Sunday he demonstrated a strong arm and great mechanics. It's evident he is a hard working leader as he and his Crater teammates made the trip all the way from Central Point for their second combine.
Bruce Cwiklinski: One of Davis' primary receiving targets, Bruce shows incredible polish for a young wide receiver. He runs great routes and catches everything around him.
Trevin Kirk: Another talented Crater wide receiver, Trevin is a major deep threat. He ran by every DB in 1on1s and did a great job tracking the football on verticals.
Michael Franklin: Michael is a Barton Football veteran and one of the best young quarterbacks Oregon. His work ethic is unmatched and it shows in his skills. Lake Oswego has another good QB in the pipeline.
Ryan Franklin: The younger brother of Michael, you would be hard pressed to find a young wide receiver that is more consistent than Ryan. He does a great job catching the ball with his hands and runs very disciplined routes.
Casey Tawa: The younger Tawa (brother Tim is a QB and standout baseball player at West Linn) showed on Sunday that athleticism runs in the family. He was hands down the best athlete in the youth group. Although mostly a running back he showed the ability to flex out and play wide receiver.
Elias Polanski: Another veteran of Barton Football events, Elias has nearly flawless mechanics. No matter what the route he was consistently on target. As he continues to grow and mature he will be a good one.
Carson Reno: Although one of the youngest players in the group Carson might have the brightest future ahead of him. He showed a strong arm and great ability to throw on the run. It is going to be fun watching him continue to develop.
Colton Richardson: Colton has been attending BFA events and working with line coach Alex Linnenkohl for one entire year now, as we first saw him at the 2013 Salem combine. His growth in size and ability has been astounding and he appears to be getting bigger and better every time we see him. "Colton's approach to the game is different from most kids his age" says BFA's Linnenkohl "He is so focused with a level of understanding beyond his years. I expect him to be a very special player if he keeps working like he has been so far." Keep an eye out for this youngster as he makes his transition to middle school football, especially if you happen to be lining up against him at the quarterback position
Morgan Bice: Bice had a good day running a 5.40 (40 yard dash) while showing off his skills at WR among the youth athletes. He ran good routes and strong hands while catching the ball.
Anthony Saltarello: We will look forward to seeing Anthony at future camps and combines as he will be a player to watch in future seasons. He worked hard and was a quick learner.