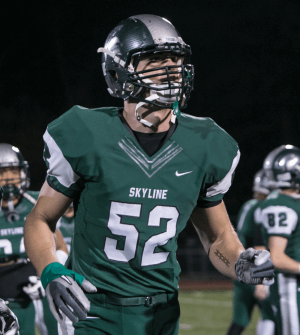 Skyline (Sammamish, Wa.) LB/DE Cameron Saffle has seen quite a few coaches come through his school the past few weeks and on Sunday, the day before Memorial Day, the talented defensive prospect hauled in an offer from Air Force, which had dropped by his school late last week.
"Air Force was here last week and the coach that saw me said he'd be evaluating my film," Saffle told Northwest Elite Index. "I got an email from them today saying that they wanted me to call them, so I called and when I finally got through to them, they said that the coaches had put my name up on the board and I landed as their top D-lineman and that they were offering me.
"It was pretty exciting. My brother went there, so I already know about their great academics and the process for getting in there and they play great football there. It's really cool knowing I have the opportunity to play for them if I want to when I get ready to make my decision."
The offer from the Falcons joins the one that Saffle already had from Idaho, which he picked up back in late March.
Besides those two programs, Saffle has seen plenty of staffs coming through his school with a handful requesting his presence at their camp.
"Washington and Washington State both have come by," Saffle noted. "Coach (Bob) Gregory has been by twice actually and he said he wanted to get me over for camp for one day and coach (Eric) Russell has asked me to come out for a day of their camp too. I think they both just want to see me at camp and get reassurance in what I can do out there.
"Besides those two camps, I know I'm going to get out to the Nike Camp down in Eugene on June 8th and then I will most likely hit the Oregon State and Oregon camps."
As a junior this past season, less than a year after he tore his ACL, Saffle rebounded by posting 62 tackles, five tackles-for-loss, 11 sacks and an interception.
"I had a good year, but I know I can play even better," Saffle told NEI back in February. "I just need to keep working and getting stronger and faster and the rest will come."
With his combination of size, speed and football instincts, the 6'3″, 221-pounder is a prospect to keep an eye on this spring as more and more schools get a look at him. He could be one of the fastest rising prospects in the state of Washington this year with a good spring and summer and should have his choice of schools before the start of his senior season.