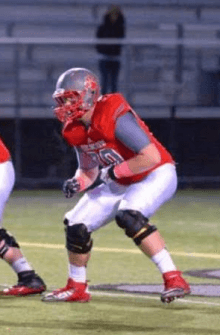 The 2015 class features a bumper crop of in-state offensive linemen and one that has seen his stock rise over the past month or so is Mount Si (Snoqualmie, Wa.) OT Christopher Schlichting. The talented lineman is still waiting on his first offer, but he's seen interest from plenty of schools with several coaches from big-time programs stopping by to see him.
"Last year, I played tackle for us and I will probably do that this year too, left tackle, but there is a chance I might move inside to guard, depending on the needs of our team, so when we go to spring ball (in a few weeks), I will play some guard for us just so I can get some reps," Schlighting told Northwest Elite Index. "I always like to take the opportunity to get better and help my team any way that I can and if my coaches think they need me inside, that's what I will do."
Because he's played mostly left tackle since his freshman season, Schlichting feels very comfortable handling pass-protection duties, but make no mistake, he's a pretty good run-blocker as well.
"I think I'm probably at my best as a pass-blocker," Schlichting acknowledged. "We've been a pretty pass-heavy team the past couple of years with (Oregon State-bound QB) Nick (Mitchell) back there, but we also ran it. I like to be aggressive, so it wasn't like I was bad at run-blocking. I think I will improve a lot on that front too."
On the recruiting front, the 6'5″, 285-pounder has seen his stock rise over the past month or so and he's started to map out some camp plans over the next couple of months.
"It's going to be busy for sure," Schlichting said. "I'm going to go to the Northwest Elite camp at Starfire (athletic complex in Renton) on June 6th and I'm also looking at the Montana State camp, the Eastern Washington camp and Washington State and Idaho.
"There's a good chance I will get out to Boise State's camp too, but I just have to see how things go as far as my schedule because it's going to be really busy for me."
The college coaches who have made their way to Mount Si this spring have been many and he feels an offer could be coming in the near future although he isn't counting his eggs just yet.
"I've talked to a lot of schools since the coaches have started to drop by," Schlichting noted. "UTEP just dropped by recently and I have also met with Boise State, Portland State, San Diego State, Washington State, Utah State, Utah, Idaho, Wyoming and Washington.
"I get a ton of mail from other schools, but right now, none have offered."
With his size, natural leadership abilities and the fact he is a polished pass-blocker, Schlichting is a player who is very intriguing to college football coaches. While he might need to wait a little longer to receive his first offer, once that comes in, he could see the floodgates open and have more than just a handful by the start of his senior season.