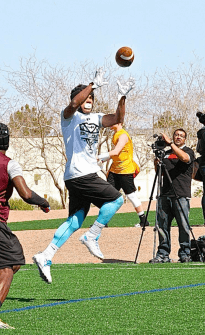 Very exciting news from Lynnwood (Wash.) where Malik Braxton ('15) of Meadowdale High School picked up his first offer when the Air Force Falcon coaching staff made their intentions known.
"When Coach Thiessen called me and told me the Air Force Academy was offering me a scholarship I just couldn't take the smile off my face," Braxton to NEI. "I actually missed the call, but I saw it was from Colorado so I called back and sure enough it was coach and he told me they were offering me."
This past season Braxton was voted first team All-Wesco, and second team All-Area, after rushing for 824 yards (8.1 per carry) and 8 TDs, on only 102 carries. Braxton is a speedy back with great vision and the ability to change direction on a dime, but Air Force doesn't seem him playing there.
"Coach actually told me that he had showed the film to the DB coach and that was pretty much the deciding factor so they want me to play on the defensive side of the ball," Braxton says.
The defensive side of the ball was opened to our eyes while Braxton was playing for Barton Football's team Washington Elite at the Las Vegas 7on7 tournament. Braxton was a leader on one of the tournament's top defenses, on his way to earning team MVP.
Recruiting is beginning to pick up for Braxton, as schools like Army, Eastern Washington and Portland State are beginning to show major interest. Right now Braxton is continuing to grind, getting ready for what could be a big senior season, by staying humble and focused on the little things that make it all possible.
"I want to thank my parents for sure, with out them obviously this couldn't have happened," Braxton said. "Of course I got to give a shout out to my little brothers because those are my little guys. Last but not least to Meadowdale Coach Mike Don, Coach Thiessen, and my teammates for putting in the hard work with me."
Braxton has become one of my favorite athletes to work with. From the first time I saw him, I knew that with hard work his ceiling was very high. I look forward to watching Braxton as he works towards adding to his offer list.