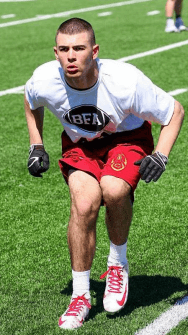 One of the most impressive kids that we have seen in the state of Washington, covering the last two seasons, is Zach Smith (5-11 175 2016 ATH) of Capital High School. He started as a freshman on one of the top 2A teams in the state, and has been a standout on the Barton Football Camp and Combine tour in 2013 and 2014.
This past season Zach went down with a shoulder injury that required surgery after game 2, missing the remainder of the year. The starting free safety was the team leader in tackles with 21 after two contests, finishing the season (5-6) overall and (4-2) in conference.
The Cougars will return 9 starters on the defensive side of the ball including 1st team all league kids Sam LeBlanc (5-11 200 2015′ LB) and Jacob Johnson (5-11 190 2015′ DB). Offensively Ryan Rieta (5-9 210 2015′ FB/LB) and Conner Kennedy (5-9 215 2015′ RB) went for over 1000 yards, and QB Cody Jenkins (6-1 175 2015) gained valuable experience last season.
Smith could potentially be the best DB we have seen this year on the tour, and an equally good teammate. Referencing last season he says, "Though in a sling for a majority of the year, I attended every practice and game as I felt the need to be the best teammate I could". Adding, "I did physical therapy and worked out with my team 5 days a week for about 4 months, as the injury made me realize you can't take things for granted because any play could be your last."
Zach will be ranked one of our top DB's in the State of Washington for the 2016 class, when we update our board in the coming weeks. He has MVP'd multiple BFA events over the last two seasons, consistently locking up the top receivers on the field.
You can expect Smith to be a conference player of the year candidate and one of the top DB's in the region this year. He is equally impressive off the field and will be someone we hear a great deal from moving forward.