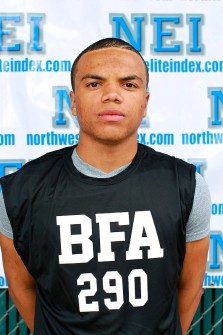 We might have to come up with a name for the week we have had thus far in the State of Washington, where it seems like one athlete after another is picking up offers. Today it is Keynan Foster ('15) of Jackson High School in Mill Creek who was offered by the Air Force Academy.
"Coach (Mike) Thiessen came by my school and showed a lot of interest," Foster told NEI. "He said he would contact me the next week and see if he could get confirmation from the head coach to offer me. Today he emailed me and told me to give him a call.
"It means a lot to me because it's my first offer and I am so honored that they saw something in me and showed they believe in my abilities."
Foster is a multi-talented athlete, and projects highly all over the field. He is he ranked as one of the best Slot Receivers, can some defensive back, and is in the discussion as the State's top return man. So, where does see him fitting in?
"They see me playing slot receiver. I really feel comfortable in this position so it is a good fit," Foster said.
In the past few weeks Foster has seen his stock really rise. A plethora of schools have stopped by recently, including Pac 12's Utah, Washington and Washington State, Boise State and Utah State out of the Mountain West, Army, Idaho and most of the Big Sky.
The rest of the offseason will see Foster attend a few camps, but it is more about getting together with his teammates as they prepare for a season where they could once again be one of the top teams in the Wesco Conference.
Foster is no doubt one of NEI's favorite athletes. He has stayed humble through everything and is an absolute pleasure to be around. In closing, Foster would like to say thanks to a few people.
"I want to give credit to my mom and dad who have been my biggest fans," Foster said "Also to Coach (Joel) Vincent the head football coach at JHS and the staff. Finally, to all my family and friends and the Air Force coaching staff."