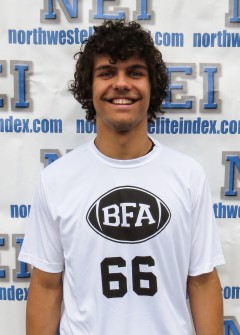 He's the unquestioned leader of what will likely be one of the top offenses in the state of Washington this fall, but Eastlake (Sammamish, Wa.) QB Richard "Blue" Thomas is fighting a stigma due to his height or, rather, his lack of it.
"I'm about 5'11 or 6'0 and I'm about 185 pounds, so I am not your typical quarterback, but I can do whatever is asked of me by my coaches and what our offense needs," Thomas told Northwest Elite Index recently. "I just love to play the game. I can run around and make plays with my legs or sit back and get the ball into the hands of the receivers and let them do what they do best — make plays.
"Football is about more than size. I think I play bigger than my size, but if you can play, size doesn't matter and I think that's something that you can prove isn't as big of a deal."
As a junior this past season, while leading his team to a 9-3 record and a berth in the state playoffs, Thomas completed over 60% of his passes for 2,276 yards passing with 23 touchdown passes against just five interceptions and he rushed for 688 yards and had seven scores on the ground as well.
"They move me around a lot and I have the freedom to take off and run if I see an opening, but I prefer to make the throws because I like to get the ball in the hands of our receivers," Thomas said.
Last season, because of a lack of depth behind him, Thomas did not play on defense much, but in a few key series during the season the Wolves' coaching staff inserted him and he made his presence felt, posting five tackles and two interceptions, one of which he took back for a touchdown in a 24-21 win over Woodinville.
"This year I will play both ways every game because we have a good backup behind me that is a junior, so the coaches aren't as nervous about me getting hurt," Thomas said. "I love to play and I never want to come off the field, so it's kinda exciting to know that I will be out there on defense too."
Considering his outstanding genetics (his father Richard was a starting fullback at the University of Washington) as well as his underrated athleticism and high Football I.Q., it's a bit baffling why no schools have offered at this point, although Thomas noted that he has been talking to several schools.
"Cal dropped by and talked to me and I've talked to a few other schools too," Thomas said. "The main ones have been Wyoming, Utah, Utah State, UCLA and I'm getting letters from Oregon, Washington State and Washington too.
"I'm planning on attending Eastern Washington's camp and Washington State's for sure and I'll go out to Missouri's camp because my dad knows the coach (Gary Pinkel) out there."
Even though he doesn't possess the prototypical size you want in a signal-caller, make no mistake about it, Thomas has what it takes to be a success at the next level. Expect teams to take their time evaluating the talented football prospect, but in the end, he should have at least a handful of offers to choose from before it's all said and done.