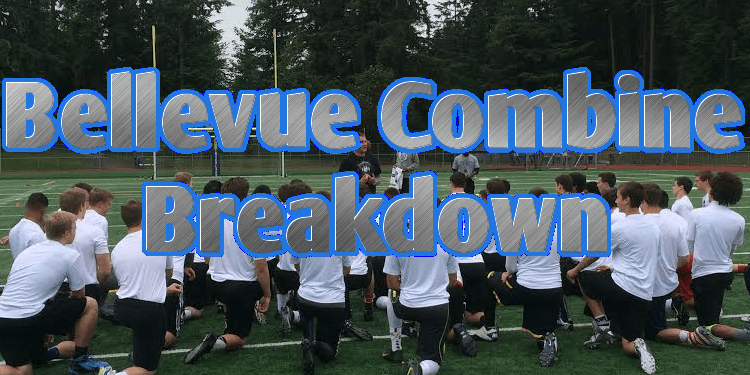 Overall MVP:
Jonathan Hillel
Mount Si – QB – 2015
Offensive MVP:
Ross Bowers / Blue Thomas
Bothell – QB – 2015 / Eastlake – QB – 2015
Defensive MVP:
Tyler Wharf
Bothell – LB – 2015
Offensive Line MVP:
Joshua Watson
Cascade (Everett) – 2016
Defensive Line MVP:
Michael Clausen
Tahoma – 2016
Breakout Performer:
Cameron Davis
Mount Si – OL – 2015
Upperclass Positional MVPs
Quarterback: Casey Brink – 2015 – Bainbridge
Runningback: Ryan Gleeson – 2015 – Roosevelt
Wide Receiver: Santana Johnson – 2015 – Gig Harbor
Linebacker: Shawn Munro – 2015 – Bothell
Defensive Back: Marion Jackson – 2015 – Todd Beamer
Underclass Positional MVPs
Quarterback: Jake Herzog – 2016 – Montesano / Evan Spiel – 2017 – Kamiakin
Runningback: Connor Wedington – 2017 – Sumner
Wide Receiver: Kyle Olson-Urbon – 2016 – Peninsula
Linebacker: Jesse Sims – 2017 – Bothell
Defensive Back: Zach Smith – 2016 – Capital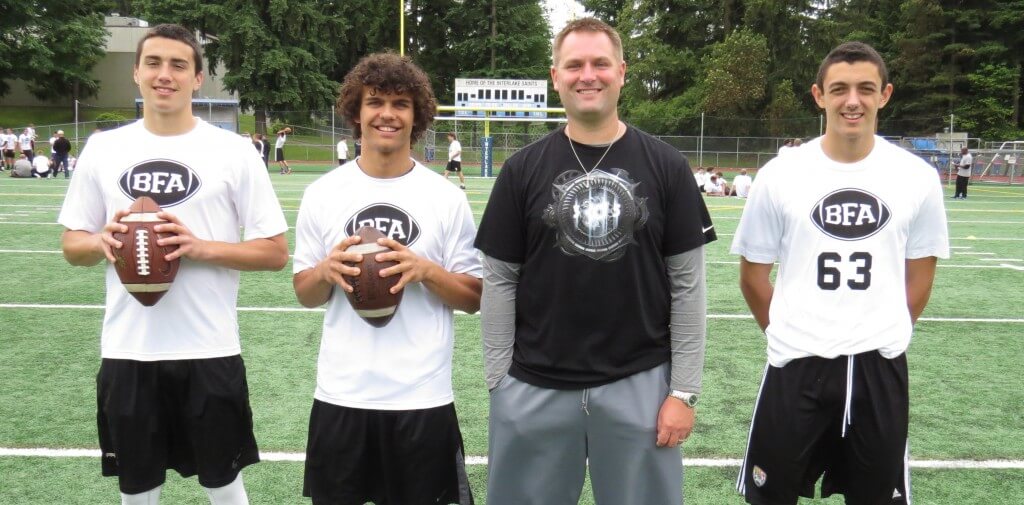 The Barton Football Academy wrapped up their near two-month long Northwest Combine Tour with a stop at Interlake High School in Bellevue last Sunday, and the talent level rivaled any of the six other stops to date.
Coming away with overall MVP honors was QB Jonathan Hillel of Mount Si High School. Hillel is one of the fastest rising athletes in the Northwest, having seen his stock go from relative unknown, to a potential scholarship QB in a matter of months. Hillel had some of the top testing times on the day, to go along with a tremendous one-on-one session. The most exciting thing about Hillel may be his age, as he will essentially be graduating a year early.
When it really comes down to it, Blue Thomas and Ross Bowers could've just as easily been named overall MVP. Thomas was working with Taylor Barton for the first time, and showed great improvement. By the end of the day Thomas was hitting every pass he attempted. Bowers is a Barton Football regular, have trained for many years. The highly talented gun-slinger showed shy he has multiple offers, with many more on the way.
The Bothell Cougars are once again one of the most talented teams in the state. Last Sunday three linebackers really impressed the Barton coaching staff, as Tyler Wharf, Shawn Munro and Jesse Sims each had MVP days. Wharf is a bit of an unknown, and very easily could've also been named as the Breakout Performer. He has been hampered by injures early on, but looks healthy and could be one of the big surprises this coming season. He had one of the top 40 times from the day, and impressed in every facet of the defensive game.
Barton Football LB Coach Dion Alexander raved about Munro's abilities. Munro is an instinctive backer, with good speed and with a 4.31 Shuttle, shows good change of direction. Simms is just a freshman, but has shown above average abilities. He is already over six-feet tall and could very well see the field this season for the Cougars.
Two lineman stood out above others when talking to Barton Line coach Scott Enyeart, with Joshua Watson and Michael Clausen taking home MVPs. Watson has shown tremendous improvement on the offensive line this offseason, and is really starting to get a bit of a nasty streak to him. Clausen is a bit undersized for the defensive line, but not many athletes have a motor like his. He only knows one speed, but also has some power to him, and is willing to get dirty and move inside when asked. Both are currently sophomores, and have very bright futures.
Another lineman being awarded was Cameron Davis of Mount Si. Davis is new to Barton Events, and showed good feet, a strong punch and good all-around technique. He was awarded the Breakout Performer, as we feel he is under the radar with a bright future.
Three other QB's picking up MVP honors on the day were Casey Brink, Jake Herzog and Evan Spiel. Brink is an athletic QB that could project at multiple positions. He throws a great ball, just needs to opportunity to showcase his talent. Herzog comes from the always tough Montesano program. He works hard and has gotten better over the offseason, and Sunday was no different, completing pass after pass. Spiel went back-to-back, having competed in the Spokane Combine the week before. His mechanics continue to get better, and this week he was on point. His testing numbers are also very good for a freshman QB.
Runningback MVPs were wide open for the taking come the end of the day. Ryan Gleeson had some of the best testing times we have seen all offseason (4.61 laser 40, 3.97 shuttle), and did very well in the drills. Connor Wedington is just a freshman, and looks to be a very exciting player. His testing times was very good for such a young player, and coach Willie Hurst glowed when speaking of Wedington's day.
The Gig Harbor area is producing some pretty high end receiving talent right now, with Santana Johnson and Kyle Olson-Urbon taking home MVP honors. While the two may be rivals, as Gig Harbor and Peninsula are separated by about 5 miles, they both had phenomenal days, and could've very easily ended up as Offensive MVP. When asked for his WR MVP, Barton Football coach Mike Bush raved about both athletes.
Two defensive backs stood out above the rest. Barton Football coach Greg Prator spoke highly of both Marion Jackson and Zach Smith. Jackson has attended a few events this offseason and always performed well. He is a bit undersized, but makes up for it in ability and sheer determination. Smith is a combine junkie, as Bellevue was his fifth combine of the season. He is always one of the top DB's in attendance, as his technique is well above average for a player of his age.
Three other QB's performing very well on the day were Jon Snell ('15 Hanford), Jake Taylor ('16 Gig Harbor) and Robert Harrelson ('15 West Seattle). Snell went back-to-back, having also participated in the Spokane Combine, as showed improvement in just a week. He shows good arm strength and a great work ethic. Taylor is just now getting back into the swing of things after offseason surgery, but is coming along very quickly. He is a tall, athletic QB, with a strong arm and good accuracy. Harrelson is one of the hardest working QB's in the state. He is regularly attends Barton events, and is primed for a big season.
Another three younger QB's working hard were Drew Olson ('16 Renton), Jack Colleto ('17 Kingston) and AJ Allen ('18 Lakeside). Olson is an athletic QB with lots of energy and a great work ethic. He has good arm strength and a tremendous willingness to learn. Jack Colleto was new to me, but I was very impressed. Being just a freshman and already standing six-feet tall is something that gets noticed, his mechanics need some work, but for a freshman QB, he appears to be advanced further than most. Allen was one of the surprises on the day. He showed some nerves initially, but once he found his grove and gained confidence, there wasn't a throw he couldn't make.
The 2015 WR class we well represented on Sunday. Triston Wedington (Sumner), Brett Rankin (Emerald Ridge), Bryson Foster (Lakes) and Connor Strand (Juanita) all made life easy for QB's on the day. Wedington and Rankin are two of the more polished receivers in the state, and are considered to be high level college prospects. Foster and Strand are both very athletic receivers with good hands, and are realistic possibilities to break out this coming season.
Rounding out the 2015 class at WR was Rudy Gonzalez (Eastlake). Personally, I am a big fan. He showed good route running ability, strong hands and a willingness to learn. Gonzalez gives Blue Thomas yet another weapon. In the 2016 class is Jeffrey Hepner (Cedarcrest), who showed good hands and solid route running.
Cole Stephens ('15 Lakeside) and Conner Walch ('15 Peninsula) were two of the top RB's on the day, and either could've won the MVP. Stephens ran one of the better 40 times (4.74 laser) for RB's this offseason, and did what he always does in the one-on-one, shake defenders. Walch is a multi-talented back, with the ability to come out of the backfield. He had a good all-around day, and looks ready to take a leading role for the Seahawks next season.
The LB group was one of the more solid groups on the day, and so far this year. Braiden Beckman ('15 Kentridge) and Joel Dublanko ('16 Aberdeen) are two of the top ranked LB's in the state, and showed it on Sunday. Beckman looked especially good rushing the QB during the one-on-one session, and if given the chance could rack up double-digit sacks. Dublanko has multiple high profile offers and showed great athleticism from multiple spots on Sunday. He rushed from just about every spot across the defense during one-on-ones, and was in the backfield just about every time.
Couple other LB's that really impressed me were Blake Donohue ('15 Tahoma), Grant Nielsen ('16 Tualatin, Ore.) and Andrew Monlux ('15 Kingston). Donohue is a beast. He flies around making plays, and is tough as nails. Nielsen made the 3 hour trip up I-5 to get some work in and didn't disappoint. He has good speed and agility, to go along with great natural instincts. Monlux is a big body at six-foot-four inches, and may project to the DL, but shows weekly he is able to play LB.
Two 2015 DB's having nice days were Manpreet Singh (Kentridge) and Elijah Funk (Eastlake). Singh is a hard worker with good speed and has above average coverage skills. Funk has good hips and showed he has been well coached. He has good speed, agility and showed he can play against anyone.
Two other DB's making an impression were Justin Guffey ('16 Glacier Peak) and Zachery Clark ('17 North Kitsap). Guffey has good size at already six-feet tall, and has great agility, with one of the best Shuttle times (4.25) on the tour. Clark comes from a small school, but showed big time talent. He has good coverage skills and will be a player to watch, being just a freshman.
Along the line a few other athletes really stood out. Diego Young ('16 Bothell), Aaron Turner ('15 Gresham, Ore.) and Benicio Madigral-Ries ('16 Arlington) all had very nice days. Young projects inside, but has athleticism to play anywhere along the line. He is closing in on six-foot-three inches, and has that mean streak you like in lineman. Turner is a big boy, that moves well and looks to be that prototypical book end tackle. He has good length and athleticism that projects him highly to the next level. Madigral-Ries probably projects to the defensive side of the ball, but showed Sunday he is very capable of playing guard. He was one of the better pass blocking lineman we have seen all season.
Three young receiving targets that performed well were Austin Brown ('16 Tahoma), Dylan Murphy ('16 Newport) and Samuel Sanchez ('17 O'Dea). Brown is one of the top WR's in the 2016 recruiting class, and with a good work ethic, is ready to break out this coming season. Murphy is a big enforcing target that uses his size well to get open. If he continues to grow, he may project to the OL, but right now is showing he is a viable TE target. Sanchez is in a similar boat as Murphy, as he is still growing and already has good size. He has good hands and is capable of playing WR or TE.
Andrew McCoy ('16 Glacier Peak), Patrick Shrum ('16 Bothell) and Alex Habenicht ('16 Tahoma) all looked good. McCoy has good size (6'1″ 200) and moves really well. He was especially impressive in one-on-one drills, as the LB's really took it to the RB's. Shrum is another solid player from the LB Factory that is Bothell. He also has good size and moves well, and did good in the pass coverage session. Habenicht looks to be another solid player from the up-and-coming program in Maple Valley. He is aggressive and really flies to the ball.
A solid trio of 2017 LB's made an impression on the day, as Giovanni Summat (Kennedy Catholic), Zack Hakim (Bothell), Bobak Hejazi (Lakewood) all performed very well. Summat is a little undersized height-wise, but he is a stout player. Touch against the run and looked good in pass defense. Hakim has good size as he is right about six-foot and around 200 pounds. He moves well, and had a nice all-around day. Hejazi is a gamer, sticking his nose in play after play. Playing at the 1A level makes events like these crucial for Hejazi, and he looks prepared to make a name.
Three young RB's worked hard on the day, as Tyler Folkes ('17 Eastside Catholic), Max Bonda ('17 Mount Si), Mason Craig ('16 Wilsonville, Ore.) were players that caught BFA coach Willie Hurst's eye. Folkes is a speedy back with good vision and a nice understanding of how to set up a move. Bonda tested well and showed good hands in the one-on-one session. Craig has good size for a younger back, and tested well, finishing with one of the better Shuttle times on the day.