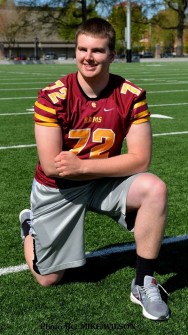 In what will be a busy off season for Oregon's top lineman, Riley Gallant (6-6 285 '15 OL) of state champ Central Catholic received his first offer from FCS national power Montana.
The big man out of Portland is ranked one of our top OL in the Pacific Northwest and will have multiple options before all is said and done. Referencing the offer from the Grizzlies Gallant said, "The offer from Montana is truly a blessing, I met with Coach Rannings last week and it was my first contact with the university so it was kind of a surprise". He continued, "It's a great school and a great first offer and i'm excited to see what my future holds, as they will definitely be a top consideration."
Central could be ranked one of the top teams in the nation partly due to it's very talented line. 6-7 Blake Brandel holds an offer from Oregon St and TJ Salu is the state's top center just to name a few. Riley was an all conference kid in 2013 and helped the Rams to one of the most impressive (14-0) seasons in Oregon State history. You can expect a host of high profile D1 coaches to be making the rounds this year as they could be just as good.
Gallant is an extremely talented kid with legit size. You can teach 6-6 and athletic and Riley puts both aspects of his game on display. If he continues to progress he could very well be one of the most recruited offensive lineman in the west. We wish him continued success and will bring you updates as they happen.