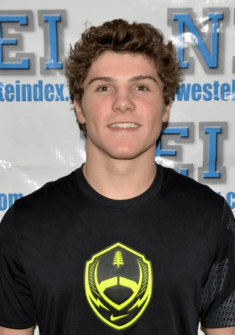 In one of the biggest moves of the year South Medford standout Brady Breeze (6-1 200 '16 S/RB) has made the transfer to 2013 State Champion Central Catholic.
The Rams will get the services of Oregon's top safety for the 2016 class, as he met most of his new teammates this weekend. As most know Central went (14-0) last year in one the most impressive seasons to date. They will most likely be ranked one of the top 50 teams nationally to start the year, with a slew of D1 kids and Breeze now on the roster.
Referencing his first day with the guys he said, "It was amazing how many kids came up and welcomed me to the team, when I've never met most of them until today". Adding, "Everybody was so energetic and happy to be on the field, as you can see why it's such a winning program… I can't even explain how happy I am to be a Ram."
Brady is the nephew of 8 year NFL vet Chad Cota, who many remember as a standout with the Ducks and the Ashland Grizzlies back in the day.
Breeze will team with close friend and 2013 Sophomore All American Ronnie Rust, who together form one of the most lethal duo's state wide. They will likely be ranked Co # 1's within Oregon for their class, on each side of the ball. It doesn't end on the football field as they may be the top two baseball players in the state, with Ronnie already holding an offer from OSU.
Nothing was easy about the decision as Brady reiterated multiple times how much Southern Oregon meant to him. Saying, "It will be really hard leaving my friends and family, especially since we are all extremely close". He added, "I have grown up in Medford and lived there my whole life, but maybe this will really test who I am."
Coach Singler does a great job down at South and it will be tough to see Brady go. That said Breeze did what he thought was best for his future saying, "My dad has always said, don't live life with what if's, If you have faith god will always be on your side."
On paper the Rams 2014 roster looks like one of the best in state history. Only time will tell, but if last season is any indication you could very well see CC holding up the hardware again in December.
Breeze trained at (BFA) The Barton Football Academy this last winter, and was a standout on our 7 on 7 Vegas Underclassmen team in March. We look forward to seeing him and his family and wish him nothing but the best