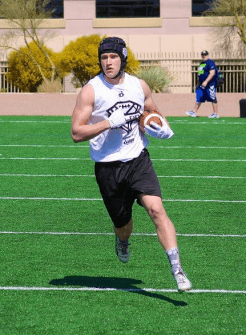 The Eastern side of Washington has joined in the recent recruiting blitz as Mount Spokane's Roy Hyatt has received an offer from the University of Wyoming.
"Getting that offer was a huge upside for me," Hyatt told NEI. "Obviously football was something I had in mind to play at the next level with, but to get an offer this early in the year from such an amazing program is truly a blessing."
Hyatt has a tremendous work ethic, and has seen his stock rise steadily over the last year, but he was still waiting for his first offer.
"Coach (Pete) Kaligis was the coach who was recruiting me and had been talking to my head coach (Terry Cloer) and I for awhile and showed a lot of interest," Hyatt said. "I got a call from Coach Kaligis last Wednesday saying that they were going to offer me a full ride. He liked how versatile of a player I was and liked the way I ran.
"He mentioned over the phone about the long process he had to go through to get the rest of the staff to approve, and they all said I would be an asset to them."
Hyatt projects high on both sides of the ball. He plays mostly in the slot offensively for the Wildcats, but was a second team All-Greater Spokane League RB last season, and was also one of the top DB's on any Barton Football team while in Las Vegas.
"They run a 4-2-5 on defense and want me to play as a linebacker for them," Hyatt says. "I would be covering wide receivers mainly though but would also have to stop the run obviously. He said I had a good frame to work with to be a linebacker and I have the speed to run with WRs."
Mount Spokane made it to the Round or 32 this past season, and look as though they could be a front runner to make it out of the GSL again this coming season. For now Hyatt is focused on getting better to help his team for next season, but does have some plans before the start of fall camp.
"I plan to start working out at APX Strength (Spokane) for this whole summer and end of school year," Hyatt said. "I did that last year and it prepared me well for the season. I will be attending the Barton Showcase over in Seattle at the end of June, a one day WSU camp, and a one day Wyoming camp as well. I am also going to take a trip over to Laramie, WY and check out the cowboys campus."
Hyatt has become one of my favorite athletes to watch and is now beginning to see his hard work payoff. I look forward to following Hyatt this coming season, and will be sure to keep you updated, as he is sure to add more offers before all is said and done.