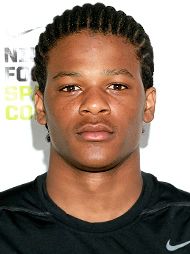 Lincoln (Tacoma, Wa.) WR Jayson Williams got some good news on Wednesday as Montana became the first school to offer the talented wideout.
"Just received my first offer from University of Montana," Williams told Northwest Elite Index shortly after receiving the good news. "They were up here last week to meet with our coaches and they came out to watch us in a 7-on-7 thing we were doing.
"The coach that watched us liked the way I was running my routes and caught the ball and he went back and talked to the wide receivers coach there and they found my film and then they offered me when I talked to them on the phone just today."
In addition to his first offer, Williams said he has talked to several schools over the last month and he'll head out to some camps very soon in SEC country.
"The main ones that came by to see me this spring were Washington State, Boise State, Montana State and Eastern Washington," Williams noted. "Eastern seems like they like me a lot. They said they like how I play the game and how I catch the ball.
"Me and Justiss Warren, Dehonta Hayes and Ben Puapauaga are all going down to do some camps in the SEC soon. We're going to go to camps at Oklahoma, Texas, Texas A&M, LSU, Baylor, Auburn and Georgia.
"When I get back, I'm going to hit the Stanford, Oregon and Oregon State camps and the Washington 7-on-7 camp as well."
As a junior this past season, Williams was a star on both sides of the ball for an 8-2 Curtis team as he totaled 23 receptions for 544 yards and seven touchdowns on offense while racking up 26 tackles, two interceptions (one he returned for a touchdown) and an eye-popping 29 pass breakups and he was named an All-Area punter as well.
"I just did anything I could do to help my team," Williams noted. "I'm much more natural as a receiver, but I can play on either side. I love to compete and play. I never want to come off the field."
This spring, his family up and moved and that made it much more sense for him to transfer to Lincoln instead of commuting to Curtis every week.
"It was a tough decision for me because I have a lot of friends there, but it was going to be a long drive for me to keep going to school there and it just didn't make much sense," Williams told NEI early last month. "I also already knew a lot of the guys here (at Lincoln) and that helped make it an easier decision."
At 6'1″ and 185 pounds, Williams already has great size, but this summer he definitely wants to work on his overall speed and perfecting his craft.
"I am always working on my feet and my routes," Williams said. "I was timed at a 4.7 this winter and I definitely want to get that down to a 4.5, so I have been doing a lot of speed work and drills and working on my technique too."
We will continue to keep track of Williams' progress over the coming months and we will update news on him as it happens.