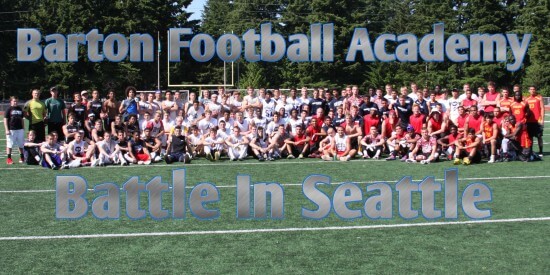 It was good to see the region's top athletes, as a great day of football was marked by the biggest title upset in 7 on 7 "Battle in Seattle" history. The Gig Harbor Tides defeated the WA Alumni All-Star team featuring 13 signed D1 athletes to win the championship.
Barton Football once again did a great job putting on the event which brought together the NW's top upperclassmen, underclassmen and youth athletes. In the end we saw why you always play the game, as the high school club from (Gig Harbor, Washington) with no current D1 offer athletes, won the whole thing. There are a host of kids worth mentioning from the day, as coaches, referees, and media all chimed in on who had the top performances of the tournament. Listed below are just some of the talented kids in attendance. Check out the NEI Facebook page to see individual and team photos from the tourney.
** No Particular Order
Davis Alexander – 2016 QB Gig Harbor
Davis was one of the most impressive kids of the day, showing off unique leadership skills, while helping the Tides win the 7 on 7 title. Alexander hit multiple receivers and his prime target (Santana Johnson) when it counted, beating two high profile all star teams. You can expect him to be one of the better QB's in the state moving forward.
Santana Johnson – 2015 WR Gig Harbor
Much like Alexander, Santana was an MVP candidate on the day. He is currently ranked one of our top receivers in the state for the 2015 class and showed why on Sunday. Johnson projects at the D1 level and caught everything that was thrown his way.
Noah Samsen – 2016 ATH Gig Harbor
Noah is one of the top athletes in his class state wide and could have a monster season with the other talented targets surrounding him. He looked outstanding on Sunday, much like in Vegas, and will be one of the better players in the conference.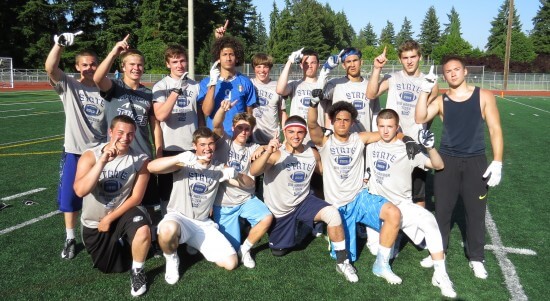 Brett Rypien – 2015 QB Shadle Park (Boise State Commit)
As expected Rypien was very impressive hitting a variety of targets with precision like accuracy. Brett's numbers speak for themselves, and his ability to come in and lead only reemphasize why he should be a very talented collegiate QB.
Drew Sample – 2014 TE Newport (Washington – Signed)
Sample is the ultimate competitor and one of the better TE's in the country. Drew caught everything thrown his way from QB's Reilly Hennessey and Tanner Gueller, making it very apparent that he would be a go to guy early. You will hear much more from the local kid.
Budda Baker – 2014 ATH Bellevue (Washington – Signed)
One of the top overall players in the country for the 2014 class. Budda made some plays that just shouldn't happen and like usual did it with a smile on his face. He separates himself with closing speed and break away ability not seen anywhere else. Everyone is stoked to see what he does in the Pac 12.
Dayzell Wilson – 2015 WR Bothell
Another top ranked WR in WA that had a very nice day. Coaches talked about him as one of the top players in attendance, as Dayzell continues to impress at each and every Barton event. Wilson will have multiple D1 offers before all is said and done.
Conner Wedington – 2017 RB Sumner
The younger Weddington had one of the most impressive days of any kid in attendance. He cut and juked his way for multiple scores and could be one of the top backs in his class state wide.
Keenan Curran – 2014 DB Federal Way (Air Force – Signed)
All of us look forward to watching Keenan at the Collegiate level as few are better defensively when he is on his game. The only passes completed on him all day were dimes thrown by the QB. He is a phenomenal kid and someone all of us at BFA can't say enough good things about.
DeAngelo Faust – 2015 ATH Lindbergh
If we were to give an overall MVP award I would have Faust in my top 3. His ability to slash and accelerate were very apparent as he kept his team in multiple ball games. Look for De Angelo to be a conference player of the year candidate this season.
Dashay Ware – 2015 DB Todd Beamer
One of the state's top DB's was all up in the mix on Sunday, showing off his D1 potential. Ware has made a name for himself over the last few years and will be one of the most exciting players to watch this season.
Triston Wedington – 2015 WR Sumner
The elder Weddington had a big day as he continued his impressive off season. Triston is a nice size target with a big upside and someone that we could see climb the charts quick with another good season.
Zach Smith – 2016 DB Capital
Smith is one of the top DB's in the state for his class and consistently wins his 1 on 1 matchups. He will be a 4 year varsity kid and was a standout defensively for the South Sound squad. Expect big things from him moving forward
Kyle Olson-Urbon – 2016 WR Peninsula
Olson-Urbon is just a very talented football player and broke off multiple DB's on Sunday. He will be a featured athlete for Peninsula next season on what should be a good team. Kyle was an all conference kid as a sophomore and will be a offensive player of the year candidate next season.
OJ Jenkins – 2016 WR Tahoma
Mike Bush was just one of the BFA coaches who really liked this kid, as the group out of Tahoma is impressive. We will see a host of the Bear athletes moving forward as the future is bright in Kent. He made a catch in the game against the Alumni team that will not be forgotten.
Reese Carlson – 2014 WR Gig Harbor (Montana – Signed)
Carlson had a huge day, scoring multiple TD's, typically going up in the air to bring the ball down. He is a big target with great hands and will be an awesome target for the Grizzlies.
Salvon Ahmed – 2017 ATH Juanita (Montana State – Offer)
Ahmed continues to thrive in 7 on 7 settings and is one of the few freshman nationwide that already holds a D1 offer. Tavin Montgomery did a great job spreading the ball around, as Salvon helped the Rebels to a semifinal appearance before being up ended by Gig Harbor.
Timmy Haehl – 2014 DB Bellevue (Harvard – Signed)
Very few passes were completed or even thrown his way. Haehl was one of the top DB's in the region for the 2014 class and hauled in multiple D1 offers. Expect Timmy to shine on and off the field just as he did over the weekend.
Conner Baumann – 2015 Newport (Eastern Washington – Signed)
Baumann is just a big, physical athlete. He shows incredible versatility for a kid his size and could very well see the field as a freshman at EWU. The Kingco (Co) Offensive Player of the Year looked great over the weekend
Makiah Gilmer – 2016 DB Juanita (Montana State – Offer)
Gilmer picked off multiple passes on the day, helping the Rebels seal a couple close ball games late. Makiah is one of the top safeties in the NW and he showed why on Sunday.
Mason Tobeck – 2015 WR/LB Cascade Christian (Wyoming, Colorado State, Idaho, Montana State – Offers)
Tobeck is just an outstanding overall athlete and did great work from his backer spot. He is ranked one of the top WR's in the state and will be a 1A WA POY favorite. Tobeck had an outstanding day jumping routes and showing off his overall athleticism.
Reilly Hennessey – 2014 QB Camas (Eastern Washington – Signed)
Hennessey looked polished and is a kid that could be one of the top FCS QB's in the country before all is said and done. Reilly had some nice targets to throw to on the Alumni team, with Pac 12 and Big Sky kids all around him.
Joel Dublanko – 2016 LB Aberdeen (Mississippi State, Washington State, Akron, Montana – Offers)
One of the top ranked LB's in the country for his class. Dublanko had what I would say was his best 7 on 7 tourney yet, moving very well for a kid 6-3 235. Expect Joel to be an individual that you hear a great deal from in the very near future.
Dillon Jordan – 2015 DB Bonney Lake
Jordan has seen his stock really rise since the start of 2014, and he has become one of the premier lockdown CB's in the state. His length allows him to play some tremendous press coverage, while his speed gives him the ability to recover.
De'Jhion Parrish – 2015 ATH Interlake
Parrish looked great defensively and will be key for Dave Myers team this season. He did well out of the backfield on Sunday and will rarely leave the field for the Saints who were one of the surprise groups of the day.
Mitch Fettig – 2014 DB Olympia (Eastern Washington – Signed)
The EWU commit brings a lot to the table in the way of overall athleticism and Fettig showed that from his corner spot. Expect Mitch to have a successful collegiate career at the FCS school.
Shane Ward – 2015 LB Rogers
The Rams really struggled, and they will be the first to tell you. Ward had a nice day and really deserves a lot of credit for keeping the team together. QB Griffin Stacy could very well have made this list as well.
Casey Brink – 2015 QB Bainbridge
Brink has a knack for getting his 7 on 7 teams deep into the Battle in Seattle. He was paired with Interlake High School this year, and helped lead them to the Semi-Finals. Casey was accurate and made many nice reads throughout the day.
David Jones – 2015 ATH Interlake
Jones had some big catches including the game winner against Bonney Lake. He will be called upon during the season and could be one of the breakout players within the conference. He was a big reason why Interlake had the day they did.
Evan Spiel – 2017 QB Kamiakin
Spiel has been a warrior as of late, hitting back-to-back combines before the 7 on 7. He has leadership you want from a young QB, a great willingness to learn and is a Tri Cities area player to keep an eye on.
Amandre Williams – 2016 QB Tahoma
Williams is a big hulking QB that is still learning the position. He really stepped up big this past weekend, organizing his team and really being the glue that held it altogether. His arm strength may be second to none, and as he learns the position he will become a lethal weapon.
Austin Cole – 2015 RB/WR Juanita
His stock has been slowly rising for the last 6-8 months, and Cole showed on Sunday he is versatile enough to play multiple positions along the offensive front. He has seen a lot of interest recently from Big Sky schools, as an offer could be on the horizon.
Gavin Crow – 2016 WR/DB Kamiakin
Probably the standout skill player from the team out of Eastern Washington, Crow can play multiple positions, and with a great work ethic is a player to keep an eye on.
Nolan Henry- 2015 QB Union
One of the top QB's in Washington for his class did a great job looking off receivers. He is currently being courted by multiple D1 schools, including a host of Ivy League institutions.
Tanner Gueller- 2014 QB WF West (Idaho St-Signed)
The Bengals of ISU got a steal in Gueller who is a BFA favorite and one of the top QB's in the region for 2014. The kid from Chehalis can sling it as he should be one of the top quarterbacks in the Big Sky before he is done.