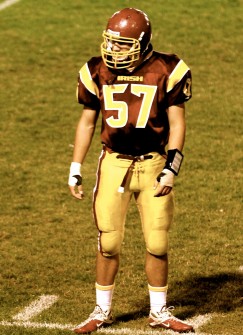 Offers have been flying around lately, an athlete who picking one up recently is Dylan Ledbetter of O'Dea (Seattle, Wash.) High School, who was offered by the University of Idaho.
"I went over there for their spring game, got a tour and met the coaches," Ledbetter told NEI. "Coach (Paul) Petrino came up to me and introduced himself. He asked if I was taller than my dad and I said 'yes'. He took me into a room and said, 'we really love your motor and the way you play the game and we want to offer you a full scholarship.'
"It means a lot since my dad played at Washington state and 6 years pro. I have some big aspirations in life. Its been my dream to get a college scholarship and it came true."
The six-foot-four, 240 pound Ledbetter is a hit first, ask questions later type player, and is highly regarded on both sides of the ball. Where he really makes his money is his non-stop pursuit on the defensive line, as most teams see him as a 4-3 End. He was a first team All-Metro Defensive Lineman last season, helping the Fighting Irish to the state semi-finals.
Ledbetter is also one of the state's best in the Shot Put, finishing second in the state after winning the Metro and District Championships.
This could be the first of many, as Ledbetter has been in talks with schools across the Pac 12, including Washington, Washington State and Colorado. He is also hearing regularly from Air Force, Army, Eastern Washington and Portland State.
Right now he is getting prepared for a busy offseason, that will see him make just a few camp stops.
"I'm going to go to UW's one day camp and try to get out to Idaho and WSU's camps as well," Ledbetter said. "I'm going to start going back to my speed training place and workout with all the O'Dea guys and push for a good year."
While the Irish lose a lot of senior leadership, the strength of this year's team looks to be in its offensive and defensive lines, which Ledbetter will be a big part of. We will be sure to keep you updated on Ledbetter and his teammates, as their will likely be more offers.