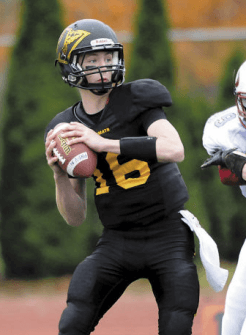 Going into the summer and looking at Oregon's top QB's and 4A teams, Philomath High School and Trey Ecker (6-4 175 2015′) are one of the first names that come to mind.
Ecker was a 1st team all league and honorable mention all state QB last season. He threw 26 TD's and 1 INT, while passing for 2,425 yards, with his Warriors finishing (11-1). Trey is a multi sport talent, running the point for the basketball team which won the state championship this past year. He has an outstanding support system as his father is also the head basketball coach.
Referencing the upcoming season Trey says, "We will be a young but very strong team that's looking to win the state title". He continued, "Making it all the way to the semi's last season I learned how much hard work goes into it and I feel that this group has some of the same attributes."
Trey showed up at Barton Football's largest Oregon camp/combine in Salem a few weeks back and looked the part. He brings legit size and outstanding overall athleticism to the table which will help him at the collegiate level. Speaking on some of the top talent returning Ecker says, " Trenton Looper will anchor the defense at LB and be a big asset with his knowledge and strength, while Nate Burkus will return at outside backer and be a force on the defensive side of the ball."
Ryan Duenas, Jack Lehman, and Chris Coudriet were other individuals that Trey spoke of who will play a key role. Adding, "Duenas is a big strong kid that we will count on to open up holes, and Jack is usually all over the field causing turnovers and making big plays."
Philomath is one of the most consistent and overall athletic schools in the state. Trey and his guys are a big reason why as they are always in the state championship conversation. The Warriors also have some size returning at the skill positions with 6-4 WR Isaac Manning and 6-5 safety Brodie Marchant. Ecker says, "Isaac will be a big target that we can look downfield for, and Brodie will return as a talented defensive starter that loves to hit."
Trey is a leader in every sense of the word and will be a conference player of the year favorite heading into 2014. Give the kids out of the Oregon 4A school credit as they seem to be good at whatever they do. We wish Ecker and his team continued success and will bring you updates as they happen.