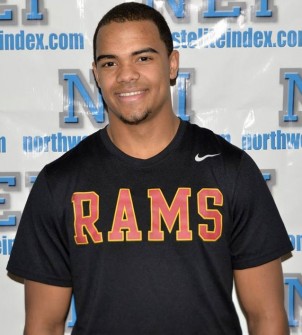 One of the fastest rising players in the Northwest is Tyson Cooper (5-11 200 2015 LB/RB) of State Champion Central Catholic. The kid out of Portland has a junior highlight film that doesn't lie as Tyson went off during the Rams state title run. Cooper finished 2nd on the team with 77 tackles, while also carrying the ball 26 times for 194 yards and 3 TD's, averaging 7.46 yards per rush.
Referencing his goals moving forward he says, "I want to make something out of myself and go to college while getting my education paid for". Adding, " I would like to give my mom the luxury of not living paycheck to paycheck, whether that means me going to the league or getting my degree to get an amazing job."
As most know Central had one of the most impressive seasons in Oregon history last year, finishing (14-0). They graduate and return a host of D1 talent and Tyson is climbing the charts quickly. You will see him ranked among the state's top 5 LB's when the updated defensive rankings are released in the coming weeks.
Cooper is a multi sport kid that also excels on the baseball field. You can expect him to be a conference defensive player of the year candidate in 2014 on what could be a team that is equally talented from the previous season.
Speaking on his group and his thoughts moving forward he says, "Team wise I hope to help push our players to their fullest potential and win state again, I don't want us to lose a single game."
You will hear a lot more from Tyson and the Rams over the summer as they could be ranked among the top teams nationally.