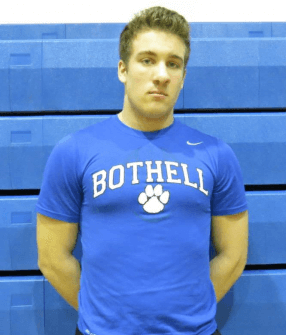 A few months ago we told you Bothell (Wash.) TE Cole Ford ('15) was looking to get to the D1 level, now he can officially say he is there as the University of Montana stepped in and made their intentions known.
"Getting my first offer just feels surreal," Ford told NEI. "All the hard work is paying off. Now I just need to keep it up. Montana is a great school and a even better program and I'm honored that they think in good enough to come play there"
Ford has worked very hard to get back from an injury that cost him more of last season, but an offer had still eluded him, until today.
"A while back coach (Tom) Bainter told me that they had asked about me," Ford said. "After the northwest camp on Friday, (Montana OC) Coach (Kefense) Hynson came up to me and said I had a great camp and deserved the MVP that I got and have me his card. So the next day I called him and we talked for a bit and he told me how they use the tight end.
"He said he really liked my athleticism and speed then that night he direct messaged me on twitter and said that they have a scholarship for me and to call him tomorrow. I did and he confirmed everything."
Things are really starting to pick up for Ford, who at six-foot-five and 245 pounds, is a very intriguing prospect. He is hearing the likes of UTEP, Idaho, Eastern Washington, Northern Arizona, Portland State and Montana State.
Right now he and his teammates are in the middle of Spring practices, and Ford has a busy few months ahead of what could be a huge senior season.
"As far as the rest of the offseason goes we have one more week of practice then our spring scrimmage," Ford says. "Then we have a week off before camp, so during that week I'm going down to Idaho's camp and I will probably visit Montana and go to Eastern Washington's camp on the way home. Not to sure about anything else yet just kind if playing it by ear."
Ford is also scheduled to attend the NW College Showcase on June 29th at Interlake High School in Bellevue, where he could easily pick up a few more offers.
The Bothell Cougars are the clear cut favorite in Washington's 4A classification. The games still have to be played, and you can be sure NEI will be on top of all the latest news flowing from the Blue Train.