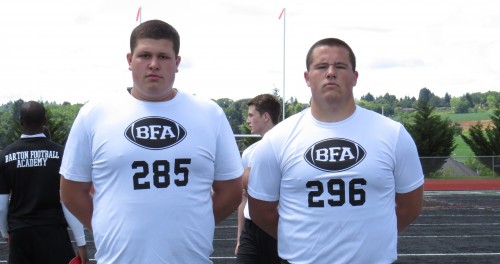 Two of the top lineman in the region for the 2016 class will be Conner Crist (6-4 290 '16 OL) and Derek McMurray (6-7 345 '16 OL) of Tigard. Both athletes possess legit size and overall athleticism. Crist will be ranked our #1 O lineman in Oregon for his class with McMurray right behind him. The Tigers upfront foundation for the future is set with two individuals that bring a lot to the table on and off the field.
Crist has been training at Barton Football since the winter, and was a standout at our elite events. Most recently him and McMurray showed up at Oregon's largest BFA Camp & Combine in Salem, and MVP'd the event. Conner projects as a double digit D1 offer athlete as he will be courted by numerous schools throughout the country. He is fundamentally head and shoulders above most other lineman in the Northwest.
Speaking on some of his guys he says, "We are pretty solid up front with Kevin Henderson (6-0 310 15′ OL/DL), Garrett Huebner (6-0 235 '16 C), and Chris Kennedy (6-0 275 '16 OL) inside of the tackles". Adding, "Those three guys are good at what they do and I know they will be ready for this year."
Derek is all of 6-7 and just a massive human being. He continues to improve and grow into his body and will be an unquestioned D1 kid moving forward. McMurray had an outstanding performance Saturday night at the annual Tigard Spring Game, nicknamed the "Chicken and Bean Bowl". His improved quickness and agility were on display, as he made some impressive blocks on backers and DB's. With continued progression he will be one of the best to ever come out of the school.
Tigard will be a state title contender again this season as they are loaded on all fronts. You can expect to see both of these kids as two of the more recruited athletes in the state over the next two years. Top to bottom you will not find a more well run program as Crist and McMurray exemplify all that is good about THS.