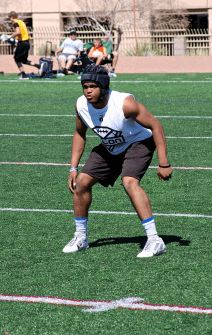 A team on the rise in Kingco's 3A conference are the Liberty Patriots. They should be one of the more improved teams in the conference next season, and will likely challenge for a spot in the playoffs. One of the big reason's for the high expectations is the stellar play of Russell Boston ('15, RB/S).
Standing five-feet-seven inches, Boston's game is base on his speed and overall athleticism. He is right around a 4.5 second 40-yard dash, while also finishing the shuttle in about 4.2 seconds.
Boston was voted as a first team All-Kingco 3A member last season for his work as Safety and was also a second team member at Runningback. Those awards come after Boston finished with 1,226 yards rushing and 12 TD's.
While those numbers and awards are great, Boston sees plenty of room for improvement on both sides of the ball.
"Offensively, looking back on my film I can see there were plenty of cutback opportunities I missed and tackles I should've broken,Boston told NEI. "To focus on that I need to learn to slow the game down and play like I'm in my backyard. Also, I am working more core and balance to be able to stay up and break 2-3 tackles a play for those highlight reel plays I know I'm capable of.
"Defensively, I need to play smarter. Alot of the time I could tell where my read was but I was still reacting late, rather than anticipating the play. By cutting off that extra split second I'll be able to make so many more plays and help my team win."
Boston lists plenty of personal and team goals for next season, from 2,500 yards offensively and 20 TD's, to winning a state championship. He would like to get better in the return game, while also being a better back without the ball by not allowing a sack and creating better running lanes as a lead blocker.
Being a captain last year, as well as this coming season, Boston would like to go beyond football for some of his goals.
"I want to build bonds that will last even after my class graduates so that Liberty Football continues its revival," Boston said. "I want every guy to improve mentally and physically to the point where they feel they can win every rep against their opponent. In turn it will create a team that is an unstoppable machine that fears nobody and just executes."
Like any good captain, Boston is quick to deflect credit and attention to his teammates. Boston speaks especially high of three 2015 athletes, Nate Jarvis (6'1″ 275), Drew Hall (6'0″ 200) and Romney Noel (5'10" 175).
"Nate is a typical center, stout, hard worker and a mean man when he lines up in the trenches," Boston said. "Drew is a powerful steamroller who never stops moving forward and can deliver a heck of a blow whether playing RB or LB. Romney is just an amazing all-around athlete, can play wherever you need him to and given a little time will excel at any position and can be that X-factor."
Two other 2015 class athletes helping along that way are Alec Waters (6'1″ 200) and Quinn Magedanz (6'2″ 195). Waters is a player we have known to watch, while Magedanz is a versatile athlete looking to breakout this coming season.
"Alex is one of the premiere leaders on the team, always ready to outwork his opponent and has the first man in last man out type of attitude," Boston says. "His servant leadership has allowed him to overcome his size on the line in the past and with the new training program, there is no reason he will not meet and conquer every challenge he faces this year.
"Quinn has been sidelined by injury but is a tall, strong, fast player who block, catch and run routes. He can play on the line, open up large alleys, adjust on the fly, rush the QB or recognize and cover a screen. Or he can split out to tight and a catch a pass or two and becomes one of the biggest multi-threat players on the team."
Boston speaks highly of the skill position players as well, three specifically mentioned are Preston Mitsui ('16 5'9″ 180), and Max Phillipo ('17 5'10" 150). He describes all three as good athletic football players, that should help take some of the attention off himself and other weapons the Patriots plan to showcase this coming season.
For a few years Liberty was one of the top programs in the state, and I look to getting out and seeing the Patriots this season, as they again strive to get to the top.