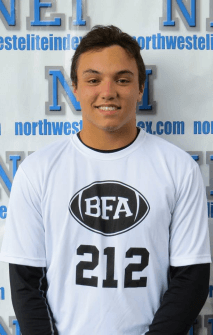 One of the top Junior athletes in the State of Oregon is Easton Bents (6-2 215 16′ ATH/LB-SS) of Grants Pass. He will be a player of the year candidate on both the football and baseball field in the coming years, ranking at the top of the charts in each sport.
Bents started as a sophomore and finished second on the team in tackles, even while missing 3 league games. He was named GP's Sophomore athlete of the year while playing in this years "Perfect Game World Series" in Florida. As good as he is on the football field he could potentially be even better on the diamond.
Regardless Easton brings a lot to the table both on and off the field, sporting a 4.0 GPA while initiating the Chinese Mandarin program into his school. You would be hard pressed to find a more well rounded individual, as he has been active with the youth and also community service projects at his church.
Grants Pass is a tradition rich football school that has been climbing their way back towards the top of the SWC. You could very well see the Cavemen ranked in our 6A top 10 to start the season, as they have all league kids returning up and down the board.
You cant teach size and speed and Easton combo's those attributes well. He is a legit D1 prospect that will be receiving significant interest from a host of high profile Ivy League type institutions. Referencing the upcoming year he says, " This year Coach Musser felt it would be best for me to contribute offensively from the wide receiver position". Adding, "The coaches have also implemented certain packages for me at quarterback and I plan to maximize my opportunities."
All conference Senior Javan Appling (6-1 200 15′) returns at QB, although Bents could be one of the state's best for his class at the position. A good problem to have if you are Coach Musser.
Week 1 will be telling as GP travels to traditional power Sherwood, in what should be one of the closer games in Oregon to start the season. We wish Bents and GP continued success as he and the team are rising quickly.