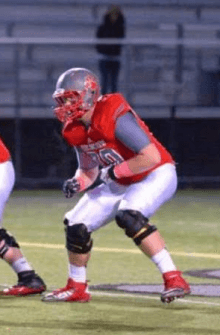 Great news from the Snoqualmie Valley tonight, where 2015 offensive lineman Christ Schlichting of Mount Si High School has committed to play for the University of Montana.
"I chose Montana because they are a great program," Schlichting told NEI. "They win a lot of games and have a good tradition rooted in winning. You can also get a quality education while you are there. I liked the city of Missoula and liked how it is away from everything."
Schlichting chose Montana over offers from Eastern Washington and Portland State.
"I talked with my parents and coach Kinnune (Mount Si HC Charlie Kinnune) first and they told me that they supported my decision all they way," Schlichting said. "I then talked to coach (Torrey) Myers and most of the Montana coaching staff. A lot of people helped me with this decision but mostly I made it by myself.
"Coach (Scott) Gregg told me he sees me as guard but I could also play tackle. He says it all depends on how I look when I arrive on campus."
This is a decision 6-foot-5, 275 pound Schlichting did not take lightly, and he made sure to do his homework before committing, including a visit to the Western Montana city he will eventually call home.
"I took a visit in late June and loved it," Schlichting noted. "I fell in love with Missoula and the campus. For a D1-AA school Montana's stadium is first class and they had nice facilities. All together it was a great visit and I feel helped me on my commitment."
Montana has been on fire as of late, picking up four commitments in just over a week from athletes in the Pacific Northwest, including offensive lineman Alex Neale.
"I feel like it helped a little knowing that Alex was going to be at Montana," Schlichting said. "He is a great player and will provide good competition when we get there."
Congratulations to Chris and his family, best of luck in what should be a fun senior season.