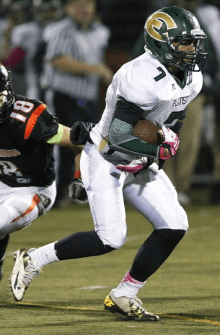 Get used to the name Rey Green (5-11 195 16′ RB/DB) as he will be one of the most recruited kids in the West for the class of 2016. The Junior out of Evergreen HS in Vancouver, WA is for real. He earned 2nd team all GSHL honors as a Sophomore, while rushing for 1,095 yards and 11 TD's.
Green has had a phenomenal off season thus far, grabbing his 1st D1 offer from Montana St and excelling as part of our BFA 7 on 7 travel squad. Rey is already ranked one of the top backs in the region by multiple recruiting services, hearing from high profile universities up and down the board. Referencing the upcoming season Green says, "As a team we want to work as a family, carry no ego's, and win the state title". Adding, " Personally I would like to go for over 2000 yards and 25 TD's, while being an elite blocking back for my team."
He could very well go off in Coach Don Johnson's system, being utilized in multiple ways. Speaking on Green coach says, "He has some of the best vision I have ever seen, as his ability to accelerate and anticipate is as good as any HS kid I have coached."
Rey has heard from the likes of Alabama, Penn St, Oregon, Oregon St, Arizona St, UCLA, Kentucky, Washington St, Nebraska, Colorado, and Stanford over the last few months. He is legit on a national level and this year will go a long way in proving that.
As most know Evergreen is maybe the fastest rising team in the region, with multiple D1 kids on the perimeter and up front. Opponents will not be able to double team Green with all of the talent around him. Current Kansas City RB's coach Eric Bieniemy, an 8 year NFL vet, says in a conversation with Johnson, "That kid is damn good, if I was still at Colorado I would be recruiting him."
Rey is an outstanding kid on and off the field. We will hear much more from him in the very near future as his stock is rising quickly.