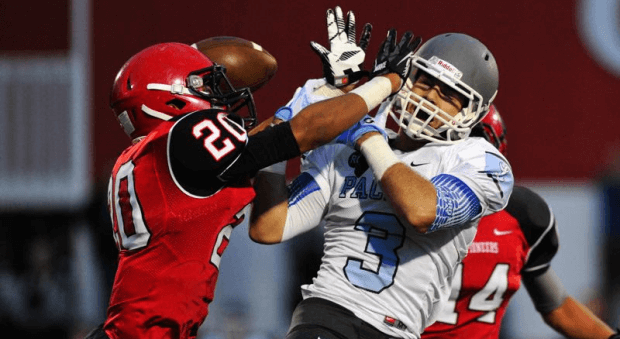 The season is a few short days away, and a kid you will hear a lot about over the next two years is Junior LB Kiahve Dennis-Lee (6-2 190 16′) of Oregon City.
As a Sophomore Kiahve went off, going for 100 + tackles and earning 1st team all league honors in the brutally tough TRL. Dennis-Lee is part of one of the most talented 2016 classes in the Northwest. The Pioneers went (9-2) last season , winning the Three Rivers League, before being up ended at SWC Champion North Medford in the 2nd round of the playoffs.
Kiahve plays with a no non sense demeanor, and was one of a select few kids state wide at the 6A level , to earn 1st team all conference accolades. Referencing his teammate, Oregon top athlete Trevon Bradford says, " Kiahve is an underrated player and a leader on our defense". Adding, "He is a beast and will definitely come up and hit you."
The O.C. community loves their football and supports their team as well as any group in Oregon. Dennis-Lee has the size and speed to be considered one of the top backers in the region.
Most know about the offensive firepower coming from the O.C. offense, but Kiahve will be the X factor on the defensive side of the ball. Expect him to be a Mt Hood Conference defensive player of the year candidate this season as the Pioneers should contend for a state title.