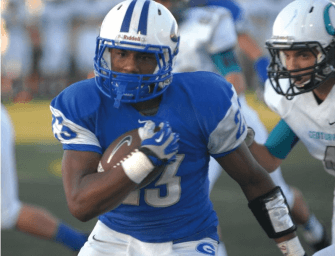 If we are talking about the fastest rising athletes in the state Sirgeo Hoffman jumps into the equation pretty quickly. The 6-1 210 pound Senior back is the brother of two time former Mt Hood Player of the Year Devauntae Hoffman, who is now excelling at Western Oregon University.
The youngest Hoffman had an impressive junior campaign, going somewhat under the radar, after rushing for 757 yards and 7.5 yards per carry in a back up role.
The Gophers bring back a talented senior class, with multiple all conference kids and three 6-6 bigs blocking for him up front. Referencing the upcoming year he says , "Everything has been going pretty good so far, by the end of the season I'm looking to have 2500 yards rushing and hopefully help my team make a deep run in the playoffs."
Sirgeo carried the ball 13 times for 84 yards, with a (39) TD run last week, in Gresham's 42-22 win over Century. They will travel to Corvallis this Friday.
Speaking on having his brother as a resource he says, "I know I have big shoes to fill and it motivates me even more". Adding, "Being called 'Little Hoffman' last year gave me a reason to work hard and leave my own mark, as I know what I am capable of doing."
The Gophers should be one of the better teams in the Mt Hood this year, but it won't be easy with the addition of Oregon City, Clackamas and nationally ranked Central Catholic. Sirgeo is much bigger then his brother, but Devauntae shattered countless rushing records and will go down as one of the top rushers in conference history.
He will get an opportunity this season to be the featured back on a talented team. Look for his stock to continue to rise as the Hoffman athletes are legit. We will bring you updates as they happen.