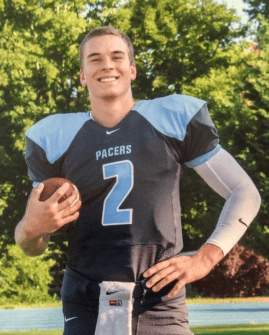 We could talk all day about Eric Dungey's accomplishments on the field but more than anything he is just a really good kid. The three sport athlete is a 3.8 student and currently listed as one of the top dual threat QB's in the West.
He recently received his 15th overall offer from a program rising quickly in Colorado State. Dungey is considered Oregon's top quarterback and a conference player of the year favorite, earning 1st team all league honors last season.
In his Pacer career he has accumulated 7,168 total yards (5,286 passing/1,882 rushing ) and 76 TD's (50 passing, 26 rushing), with a long season still ahead. He went 22 of 24 for 308 yards and 5 TD's against Canby Friday night, while also rushing 12 times for 80 yards.
Lakeridge is currently (2-1) and ranked #9 in our most recent NEI top 10. The Pacers reached the state quarterfinals last season and are determined to make another run. So far this season Dungey has passed for 600 yards and 9 TD's, with 279 yards on the ground and 2 more scores.
We caught up to Eric after Friday's big win and offer from Colorado St…
OFFERS: Colorado St, Nevada, Air Force, Idaho, UNLV, Wyoming, Navy, Montana, Montana St, N Colorado, UC Davis, Brown, Harvard, Yale.
You guys have been playing well as a team.. Compare this year to last season?
Dungey: "We have another year in our new system and we are more experienced… Our coaches have really been stressing discipline this year and it helps everyone to keep focus."
Talk about your recent Colorado St offer.. Where does it rank with the rest of them?
Dungey: "I went down to CSU and loved the campus and coaches.. They said they wanted to come watch me throw live so Coach Baldwin came to my last game, and my coaches told me at halftime that they were going to offer.. It was a great feeling going into the 2nd half."
You played varsity ball as a freshman.. Talk about Lakeridge football now versus then?
Dungey: "The culture of Lakeridge football has changed immensely since my freshman year.. Everyone is working harder, school spirit is better than its ever been, and we are winning a lot more games with a different type of confidence.. As a team we are like one big family."
What has the recruiting process been like and training with Barton Football over the years?
Dungey: "The recruiting process is like a big roller coaster.. At first it was frustrating cause I wasn't receiving a lot of attention but it just made me work harder.. I am very thankful for every offer that I have received."
Dungey: "Training with Taylor and Barton Football over the years has done so much for me, specifically helping to elevate my recruiting.. Taylor is great at fine tuning everything mechanically.
The elite events and Vegas really helped me gain some much needed exposure and national attention, while competing with the best in Oregon and against some of the top kids in the country."