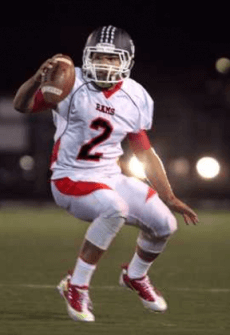 The Wilson Rams are off to a 3-0 start, with their offense averaging 40 points per game, and may not be playing their best football.
They are led by one of the state's top duel-threat quarterbacks, Julius Yates-Brown. He really is the straw that stirs the drink for Wilson, and thus far is averaging nearly 300 yards of total offense a game, and has added 10 total touchdowns.
"It feels good," Yates-Brown told NEI. "Feels like last year, but we are more confident in the guys we have.
"We still need to get better consistency in our practices. We feel we just need more guys to buy in to our coaches philosophies."
The biggest surprise this season has been the emergence of Keun Thompson ('15), a 6-foot-2, 200 pound wide receiver.
Thompson, who has been known more for his abilities on the hardwood, opted to play football this year, and it has really paid off. He is one of the state's leading receivers, averaging over 100 yards per game, and has three touchdowns.
He has done a little bit of everything for the Rams, from kick returns, to catching pass, he has also proved to be a tremendous blocking receiver. All-in-all, Thompson provides nearly 300 all-purpose yards per game, and had a punt return for a TD.
He even brings something outside observers may not see.
"Keun is a motivator," Yates-Brown said. "He brings leadership, always telling us to keep our heads up. He has also been a nice target this season, and does a real good job blocking. He is a beast."
In the backfield alongside Brown is the thunder-and-lightning duo of Billy Greer and Zavia Frazier. Greer is a punishing lead-blocker, and almost impossible to bring down, while Frazier uses his speed to keep the opposing defense off balance.
"Billy opens running and does a great job in pass pro," Yates-Brown noted. "He is a converted offensive lineman, and is great on the defensive line as well.
"Zavia is a real aggressive runner and does a great job at finding the hole. He brings leadership and helps keep the team together."
We are four players deep and have yet to even mention the athlete most likely to be on the collegiate radar, AJ Ruffin.
Ruffin is a 6-foot-4, 235 pound monster that can really move. He is a two-way star, garnering attention at tight end and on the defensive line.
"AJ intimidates a lot of players because of his size," Yates-Brown says. "He is a mismatch for almost every defender and does a great job at getting open, especially when reading the linebackers on our option routes."
Being just a junior, Ruffin appears headed to being one of the top recruits state-wide before all is said and done. He is already drawing interest from many of the top schools, including Nebraska.
Another target Yates-Brown was excited to talk about is Xavier Martin Jones, "He runs really crisp routes and has really good hands. Xavier is really fundamentally sound."
While the Rams may not have a ton of depth, they do have a ton of talent. Should they stay healthy, there is no telling the amount of yards and points this team could rack up.
I will be sure to keep you updated on the Rams, as there are for sure some D1 scholarships to be tossed around.