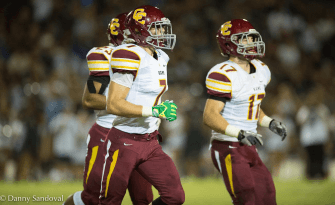 Two of the top athletes in the country for the class of 2016 are Brady Breeze (6-1 200 FS/ATH) and Ronnie Rust (6-1 200 RB/LB) of Central Catholic. We talk about a lot of talented kids but these two are special on a nationwide level.
As most know Breeze is ranked one of the top 10 safeties in America for his class and is committed to the Oregon Ducks. He is the nephew of 8 year NFL vet Chad Cota and has a very similar upside. Rust earned sophomore All American honors last season, helping the Rams to a (14-0) record, and their first state championship in 60 years.
Brady made the move from South Medford this past off season, and is now residing in Lake Oswego with his family. Rust and Breeze originally met on the diamond with both of them considered two of the top baseball players in the country as well. Rust has already been offered by Oregon St, and will be a leading candidate for state player of the year honors in each sport.
We have gotten to know each athlete over the past few seasons. Brady was an MVP as part of the BFA 7 on 7 all star travel squad that we took to Vegas last spring. Ronnie was a standout on the Barton Football Camp and Combine tour, taking home Most Valuable Player honors at Oregon's largest event in May.
They are ranked at the top of the charts in almost everything that they do. That said their attributes off the field out way what they do on it. Referencing their friendship and how it all got started Breeze says, "We first met in 7th grade at an all star baseball tourney, where Ronnie went off and hit a couple bombs in the championship to beat my team". Adding, "We would text once and awhile but never really hung out until this summer.. Now we do everything together and a lot of people consider us like twins."
Both kids come from exceptional families and realize that they are fortunate to have the support system that they do. Brady says, " Ronnie is a great Christian, can surf like me, ski on the mountain, and lift as much weight as me… We are best buds and would take a bullet for one another."
The Rams are currently (3-1) with their only loss being to the nation's #1 ranked team in St John Bosco. Central could very well have a dynasty in the making as many of their top athletes return next season.
Through three games Brady led the team in tackles with 19 and an INT, while Ronnie added 17 total tackles, 2 tackles for loss, and 4 hurries. Ronnie could also potentially be the state's top junior RB, averaging 9.5 yards per carry, while rushing 26 times for 248 yards and 3 TD's in the first 3 weeks.
The Rams are ridiculously talented at the position with All American Cameron Scarlett going for 33 TD's last season and Breeze being dominant at RB if in need. As a freshman Brady went for 30 TD's and 2800 yards while still in Medford.
Speaking more on their friendship and the future Breeze added, "When I went on my unofficial visit to Oregon I took Ronnie and my brother Bo, because that just how close Ronnie and I are". He continued, "We always talk about going to the same college together, cause we can't even imagine what that would be like.. I can't wait to see what happens, I just love the guy."
Its still early, but Breeze and Rust could very well go down as one of the top dual sport combo's in Northwest history. They are class kids that represent all that is good about our student athletes. We will hear much more from each in the coming year.