Kellen Strahm Sr. ATH/QB Sheldon– As of right now Strahm should be considered a leading candidate for conference and state player of the year honors. The "do it all kid" accumulated 352 all purpose yards and 5 more TD's in the 34-7 win over Roseburg.
Caleb Browning Sr. RB Union, (WA) – The senior standout rushed for 185 yards and 5 TD's in the big 55-6 win over Evergreen. Browning is having a player of the year type season.
Liberty Football– The (4-1) Falcons blasted undefeated Parkrose 56-14, and now look like one of the better 5a teams in the state.
Logan Munson Sr. WR / Cole Chandler Sr. QB Silverton– Munson is the real deal and one of the top receivers in the state. He caught 10 passes for 193 yards and a TD from one of Oregon's top QB's in Chandler, who went 16 of 20 for 279 Yards
Sirgeo Hoffman Sr. RB Gresham– The talented senior continued his season long tear in the 34-26 loss to Oregon City, rushing 22 times for 216 yards and 3 TD's (22,71,12).
Tanner Scanlon Sr. WR McMinnville– Scanlon is an all league returner that is one of the better athletes in the CVC. He caught 5 passes for 132 Yards and 2 Td's (59,15) in the 42-39 loss to McNary.
Mitch Verburg Jr. QB /Zack Parker Sr. WR/ Max Mattern Jr. RB/LB Lake Oswego– Verburg is legit as are the Lakers with their full crew back. He went 11 of 15 for 229 yards and 2 Td's, with Parker making 4 catches for 117 yards. Mattern had a nice night rushing 8 times for 70 yards and 2 TD's in the 38-14 win over Canby.
Ryan Bay Sr. DE/TE Tigard– The 6-4 two way threat had a nice night defensively scoring two TD's (78 yard fumble return, 35 INT for a touchdown) in the 56-34 win over Newberg.
James Price Sr. WR Camas– Price continued his phenomenal season, catching 9 passes for 171 yards and 3 TD's in the 56-24 win over Skyview.
Troy Fowler Sr. QB North Medford– The returning SWC POY helped bury Thurston early, going 18 of 23 for 307 yards and 3 TD's. All attention will be turned to #3 North Medford @ #4 Grants Pass this week.
Eli Whitmire Sr. RB Woodland (WA)- Whitmire went off as the Beavers remained undefeated (5-0) in the win over Washougal. Eli rushed for 4 Td's, and returned a kick 69 yards for another.
Jason Talley Jr. RB Jesuit– One of the top Junior's in Oregon had a phenomenal night, rushing 38 times for 198 yards and 4 TD's in the 49-44 win over Westview.
Jordan Hannah Sr. RB North Valley– The talented senior is one of the top players in the state at the 4A level. He rushed 24 times for 288 yards and 3 TD's in the 19-13 win over Phoenix.
Connor Berggren Jr. WR West Linn– Maybe Oregon's breakout junior of the year caught 2 more TD's, giving him (8) for the season in the 35-7 win over Lakeridge.
Jordan Happle Jr. WR Jesuit– Happle is a kid that we hear about every week. He continued his impressive season, catching 3 more TD's. Jordan is one of the fastest rising junior recruits in the region.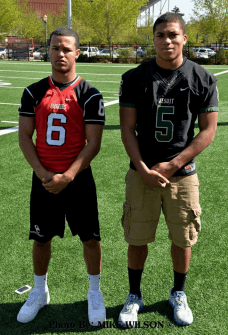 Preston Jones Jr. RB Mountain View (WA)- Jones went for 3 Td's in the 27-21 loss to (5-0) Bethel, as the kids from SW Washington are better then their (1-4) record indicates.
Anthony Adams So. ATH Newberg– One of the Northwest's top sophomores kept his team close to the #2 Tigers until the 4th quarter before falling 56-34. He carried the ball 18 times for 173 Yards.
Samori Toure Jr. WR Westview– The breakout player of the week goes to Toure, who caught 8 passes for 144 yards and 2 TD's against a very talented Jesuit secondary.
Javan Appling Sr. QB Grants Pass– Appling has been consistent every week. He went 18 of 24 for 346 yards & 5 TD's, including 59 yards rushing, in the 52-0 pasting of a good South Medford team.
Shashi Penn Jr. WR Ashland– One of Oregon's top Junior wide receivers had a good ball game, catching 4 passes for 137 yards and 2 Td's (79), which included a 13 TD run in the 45-7 win.
Nick Janakes Sr. RB/LB North Medford– Janakes has continued to have his way with anyone trying to stop him. He rushed 11 times for 134 yards and 4 more TD's in the 57-7 win.
Quinn Cota Jr. QB/ Dustin Jones-Phillips Jr. WR /Trevor Vill Sr. ATH– Cota took over at QB and did a phenomenal job completing 11 of 14 passes for 270 yards and 3 TD'S. One of the state's leading receivers Jones-Phillips added one (61), and Vill two (51,25). The 26-0 win over Crater was a much needed.
Drew Matthews Sr. ATH North Bend– Matthews has become a fixture on the elite performer list. The Bulldogs are legit as Drew had another monster night on both sides of the ball, taking an INT back 70 yards for a TD and catching 7 passes for 90 yards, including a 13 yard touchdown in the 34-21 win at Siuslaw.
Cole Wilson Sr. RB Wilsonville– Its nice for the Cats to have Wilson back healthy as the senior rushed 20 times for 305 yards and 4 TD's in the 52-13 blowout win over LaSalle.
Taylor Jensen Jr. QB Forest Grove– The 6-5 1st team all league returner threw 3 Td's and caught another in the 41-13 win over North Salem.
Jeff Lacoste Jr. RB West Albany– Yes there is another Lacoste. He rushed 25 times for 246 yards and 2 TD's in the 24-21 upset loss to Mckay.
Sam Aguirre Sr. RB Willamette– Aguirre had his way with the Axemen going for 260 Yards on the ground and 3 TD's in the 56-25 win over South Eugene.
Wesley Riddell Sr. RB Central– The state's leading rusher (1,335 yards) continued his outstanding season, rushing 32 times for 217 yards and 2 more Td's in the win over Crescent Valley.
Dante' Reid Jr. QB /Ben Ferguson Jr. Slot /Grant Nielsen Jr. RB/LB Tualatin– The T wolves are not a bad football team dropping a close one to Sherwood 38-28. The Junior trio had another nice night. Ferguson has had a breakout season thus far catching 2 more TD passes (30,7), with Nielsen scoring twice (75,9) and also being one of the top LB's in the TRL.
Sam Colbray Jr. RB Hermiston– The 5-9 210 pound back went for 3 Td's in the Bulldog's 31-27 loss to Coeur' D'Alene. Idaho's #2 ranked team.
Trevon Bradford Jr. Slot Oregon City– Bradford continued his season long tear catching 2 more Td passes (47,65), in the 34-26 win over Gresham.
Brady Breeze Jr. S/ Zach Hallinan Sr. WR /JJ Wells Jr. Slot /Deante Strickland Sr. Slot Central Catholic– One of the country's top safeties (Breeze) took a pick back 66 yards for a score, with Hallinan (32,13), Wells (2,42), and Strickland (24,4) scoring 2 TD's a piece in the 52-2 win over Reynolds.
Cody Anthony Sr. RB Mountain View– The 6-2 210 pound Anthony is incredibly versatile, rushing 25 times for 165 yards and 2 TD's in the 26-20 win over Summit.
Wyatt Smith So. QB McMinnville– Not a lot of people know about the talented sophomore yet, but Smith threw 4 more TD's on 14 of 28 passing for 313 yards, in the 3 point loss.
Matt Jones Sr. QB Hillsboro– Jones has his guys (5-0) and playing with confidence, passing for 2 Td's and rushing for another in the 24-9 win over Sandy.
Kyle Torres Jr. WR McNary– One of the Valley's top junior's had 3 receptions for 94 Yard's and 3 Td's (33,46), including a 86 Yd kick return.